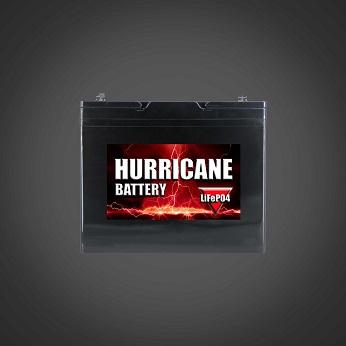 - September 21, 2020 /PressCable/ —
Earlier today, Hurricane Wind Power finally announced the release of Hurricane LifePO4 Batteries – the deep cycle lithium batteries are a game changer in emergency power preparedness, which has been in development since 1/1/2019. The main aim is to LifePO 4 batteries are to increase energy storage capacity in a light weight and compact form factor product..
Anthony Jones, CEO at Hurricane Wind Power, says: "We wanted to try something new with Hurricane LifePO4 Batteries. Anyone familiar with the Emergency Power market will probably have noticed how everyone else has developed solar generators that use sealed AGM batteries. This only allows a small percentage of the battery to be discharged with the battery being damaged. This is a problem because batteries are expensive and with failed cells solar emergency power will no longer work and when repaired it is very costly. ." They are also very heavy and due to the cost and minimal ability to store power backing up your RV home cabin or other power need has been less than ideal with wind and solar powered energy products
So as a welcome a new technology, Hurricane LifePO4 Batteries will change the way we do business in the off grid field of preparedness in a crossroads where the world has become a more volatile place and preparedness month takes on a new found importance. The Hurricane Lifpo 4 batteries use prismatic cell technology which provides superior energy density and performance. Hurricane Wind Power chose to make this move because Other popular products on the market use cheaper cylindrical cells which cannot compete with the cells in the hurricane battery.. In critical duty application where pumping water and or emergency medical equipment is needed Hurricane Wind Power has packed a lot of energy in a small package with the ability to charge and discharge up to 5000 times. The lithium batteries provide a new option in solar design and the ability to store power really like never before from renewable energy products.
Anthony Jones also said "we want to give our customers at Hurricane we want to provide our customers energy security and availability to run critical emergecy medical equimpent pump water and meet other critical needs in challenging times providing a sense of empowerment. . .Hurricane LifePO4 Batteries, they have a fresh new possibility. In the event of power loss our customers will have power on demand that is not dependent on ability to keep and maintain supplies of gas propane or other fuels. This essentially allows our customers to live and run off grid power independent of the grid or even integrated with the grid for long periods of time without sacrificing due to limitations of heavy inefficient battery chemistries. The Hurricane LifePo 4 has tested against and consistently outperformed other offerings which cost up to 200 percent more as well which drive home the value and freedom the new technology provides solar energy, RV and marine power customers.Due the the lightweight profile Anthony Jones went on to say this product has gone over big in the prepper and survivalist community.
Hurricane Wind Power has been in business for since 2009, being established in May 2009. Since Day 1 it has always aimed to Hurricane wind and solar is established to provide wholesale pricing empower DIY wind and solar implementation as well as supporting our expansive network of installers. .
Hurricane LifePO4 Batteries is set to launch The Hurricane Lifepo 4 battery is available immediately. To find out more, it's possible to visit https://www.hurricanewindpower.com/hurricane-battery-12-volt-100-amp-hour-lithium-iron-phosphate-lifepo4-battery/
For further information about Hurricane Wind Power, all this can be discovered at https://hurricanewindpower.com
Release ID: 88977601