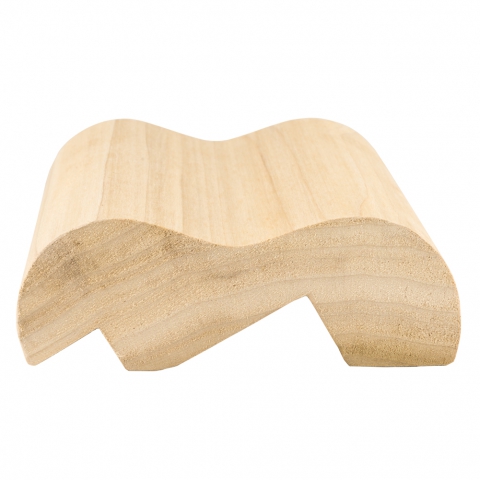 - September 21, 2017 /PressCable/ —
Los Angeles, California – September 20, 2017
Although the economy has improved since the recession, spending on drinks of the bar still hasn't rebounded. Studies suggest the high cost of going out for drinks is why young people aren't into nightclubs and bars as much. In recent years, hundreds of nightclubs and bars have closed because people are less interested in face-to-face meet ups, as people find clubs and bars are impersonal and expensive.
For people looking to create an at-home bar, Blumer & Stanton's Wood Bar Rail Moulding finishes of a bar top with comfort and style. Blumer & Stanton, a company that specializes in well-crafted wood bar tops, offers people that prefer to relax from the stress of going out their Wood Bar Rail Moulding, which is available on Amazon. Blumer & Stanton's Wood Bar Rail Moulding perfectly fits over a ¾" bar top and ¾" sub surface, which is a construction technique that's preferred by professional carpenters for a more stable, and sturdy bar.
A company spokesperson states, "One of our most popular items, our Wood Bar Rail Moulding is ideal for an indoor DIY home bar top. Milled from maple wood, it's perfect for a stain or paint finish and can also be used for a restaurant or pub indoor application. It's durable enough to stand up to heavy use, easy to install and looks great, and provides a very comfortable resting place for your arm when sitting at the bar. The edge helps to keep glasses or dishes from sliding off the edge of the bar as well."
When the founders of Blumer & Stanton set out to create a high quality and durable Bar Rail Moulding, they realized that their product would create an inviting atmosphere for people choosing to stay home rather than going out. The at-home bar movement is expected to continue in the years to come due to do the fact that young people feel a night out is expensive, and drinks at fancy places are overpriced because people are paying for the atmosphere.
Blumer & Stanton offers Amazon customers a full satisfaction guarantee, and will replace a damaged product as long as the material has not been altered in any way. People who are interested in knowing more about the company or their products can visit their website or Amazon.
https://www.amazon.com/s/ref=nb_sb_noss_2?url=search-alias&field-keywords=bar+top&field-brand=blumer+&+stanton
About Blumer & Stanton, Inc:
Blumer & Stanton Enterprises is located in West Palm Beach, Florida, and was established in 1946. Blumer & Stanton primarily operates in the Millwork business, making quality custom woodwork. For over 71 years, the company has had the privilege of serving South Florida's distinguished and quality-conscious builders with custom architectural woodwork, entryways, cabinets, columns, doors, shutters, and wood moulding profiles – from elegant upscale residences to high-end commercial projects. For decades, Blumer & Stanton has been widely recognized as an innovative and leading manufacturer of bar rail mouldings.
https://www.amazon.com/s/ref=nb_sb_noss_2?url=search-alias&field-keywords=bar+top&field-brand=blumer+&+stanton
Release ID: 241556