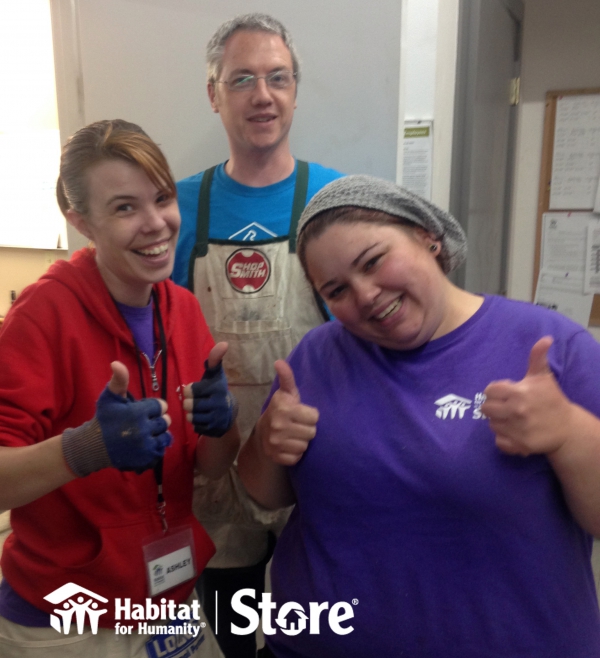 - December 20, 2016 /PressCable/ —
Habitat for Humanity Whatcom announced that one of their most dedicated volunteers in the Habitat Store is leaving in mid January. Volunteer coordinator Janet said, "Carmen approaches her job in our receiving department with the kind of thoroughness and inexhaustibility one might expect from a former member of the armed forces. We are sorry to see her go but very grateful for all she's given us."
Prospective volunteers are encouraged to share a selfie video audition on HFH Whatcom's Facebook page or stop by the store for a live audition for this rarely open volunteer position.
Auditions should be based on how and why the prospective volunteer would be a great fit for this position.
Habitat for Humanity in Whatcom County is a local, self-sustaining affiliate of Habitat for Humanity International, a nonprofit Christian organization that builds houses for families of all faiths in need of decent, affordable housing. Families help build their homes and then purchase them with $500 down and a 0 percent interest mortgage. HFH Whatcom in Washington state has completed 41 projects since 1988.
Carmen oversees the donations receiving in the warehouse and said about her position, "I enjoy seeing all the neat things that people donate and figuring out what price to give them. I don't even know what some donated items are. Most of all I enjoy working independently and training the new volunteers."
Her position was working Tuesday through Saturday 9am to 3pm. Janet said, "We don't expect to find one person to replace her, but if you're interested in helping out at Habitat and are available for a regular shift sometime within Carmen's working hours, let us know! Carmen will be leaving us mid-January so new volunteers who start soon will be able to train directly with her." This position requires someone with good organization and record keeping skills and some leadership around training other volunteers assisting in the donations receiving area.
The Habitat Store sells donated new and used furniture, appliances, housewares, and building supplies to the public. This is one of the most important sources of funding to help them build. The money made from sales helps build homes and run the organization.
Interested volunteers are encouraged to stop by the Habitat Store and fill out a volunteer interest form, complete a liability waiver and schedule an orientation with Janet, the Volunteer coordinator. The forms are also available on the HFH Whatcom website. http://www.hfhwhatcom.org/
Release ID: 155098