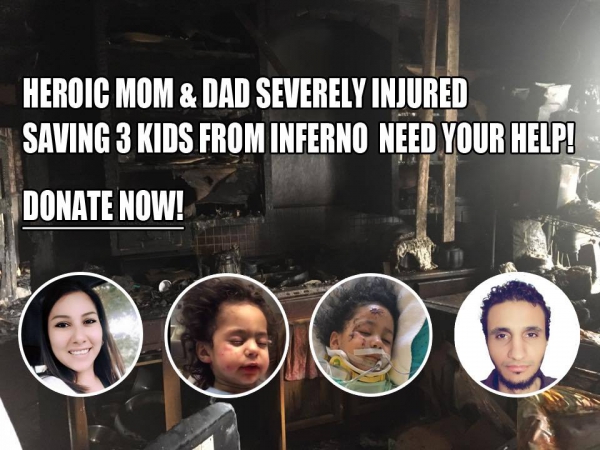 - April 25, 2017 /PressCable/ —
A Buffalo, NY couple has everything they own destroyed in an "suspicious" apartment inferno being investigated as arson. The couple and 3 children were all injured in the fire that destroyed their apartment building. Khaled Soliman fell from the second story window with two kids as his wife Claudia Chamo Soliman tossed their 6 month old baby girl out another window to a stranger below, the baby safely landed in the strangers arm, however Claudia, tragically was later found unconscious with severe burns inside the apartment.
Here is one other news report of the incident: Apartment Fire.
In his own words from his hospital bed Khaled says – "We just survived a wicked fire … every single one of us are at the hospital and trying to pull through." Their injuries are extensive and thankfully they made it out alive "…my foot got fractured into pieces while pulling my daughter as I took a fall out the window onto solid concrete with broken glass from second story building. The impact was so strong it also fractured my spine. But it was worth it as absorbing the full shock of that impact saved my daughter's life. She walked away with scrapes across her face from the glass as she rolled over after landing on me. Doctor said it may take a year of rehabilitation before I can walk again after I do surgery."
28 year-old Claudia is a truly heroic mother, Khaled states "…my wife is in an induced-coma due to 3rd degree burns sustained while she covered our 3-yr old son from the blast. Our son came out with superficial burns and no real threats because of her heroic effort to act as a barrier between him and the flames. She is also going to undergo surgery for her skin and lungs as her lungs are filled with toxic smoke and debris… she is currently on life support in the burn unit." He went on to say "…our 3 / yr old son…is suffering from minor burns and his cornea (eyes) were scratched by the smoke and he has breathing difficulties."
Khaled recounts the he had no idea that his daughter was tossed from the second window but says his wife was very brave to trust the stranger below. The unknown man who caught the 6 month-old baby has not come forward at this time. Also noted was that the "baby never cried through the entire ordeal and did not get a single scratch", and why should she with such brave parents fighting to save her life.
Even after this horrific event Khaled says "I am hopeful about the future."
What an amazing father and mother who sacrificed themselves to save their children. The recovery will be long and difficult, thank God they all made it out alive.
Please donate at https://www.gofundme.com/KhaledFamilyFund all donations are welcome in this great time of need. $5, $20, $100, it all adds up!
Release ID: 190342