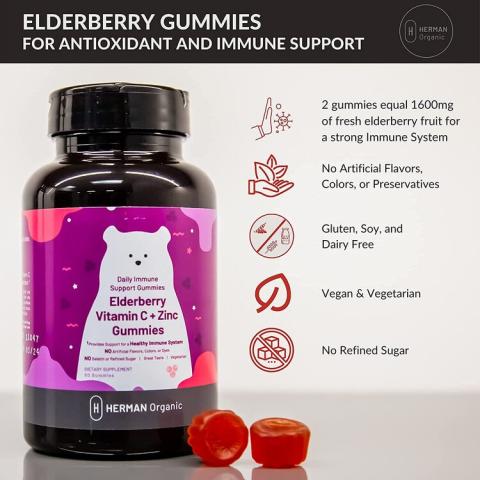 - October 14, 2021 /PressCable/ —
The recent launch adds to Herman Organic's current lineup of health supplements for men and women, which include products for fertility, strength recovery, hair growth, thyroid function improvement, and more.
Further details on this at: https://hermanorganic.com/products/elderberry-gummies
Herman Organic's Elderberry Gummies contain nutrients that support and sustain immune function. The recently launched daily supplement offers all the health benefits of elderberries with zinc and Vitamin C – two cornerstones of immune strength.
Elderberry is a natural source of anthocyanins – a class of flavored phytonutrients – and vitamins. When combined with zinc and vitamin C, these berries supply a powerful dose of nutrients that support healing, digestion, and pain relief while lowering susceptibility to diseases.
Herman Organic's Elderberry Gummies deliver a daily source of healthy nutrients that support overall health. The company recommends a dosage of 2 gummies per day, which provides 100 mg of elderberry, 7.5 mg of zinc, and 90 mg of vitamin C. Each bottle contains sixty gummies, which sums up to a month's supply when consumed according to the recommended dosage.
The gummies are vegan and manufactured using a soft-texture fruit extraction process, keeping them free of gelatin and components such as preservatives, refined sugar, gluten, artificial flavors, and soy.
About Herman Organic
The company produces natural supplements tailored towards improving the consumers' quality of life. Its product line is developed with input from a team of physicians, researchers, and other specialists. All products are manufactured at its FDA-registered facility based in the US. Herman Organic has built a global reach with its line of products that have sold in over 31 countries.
A satisfied consumer said, "One of my favorite things about these elderberry gummies is that they don't contain sweeteners, which I despise because of the taste. They are pleasantly sweet, but the sour notes are also there. They are chewy, but not too hard. They don't stick to each other in the jar. They are definitely going straight to the top of my favorite immune support supplements list and I highly recommend them."
Interested parties can purchase Herman Organic's elderberry gummies from Amazon here: https://www.amazon.com/Herman-Organic-Elderberry-Gummies-Vitamin/dp/B094WYNS8G/ref=sr_1_5?crid=24YLMO9Z2VA93&dchild=1&keywords=herman+organic+elderberry&qid=1633537491&sprefix=herman+organic%2Caps%2C251&sr=8-5
Release ID: 89049214