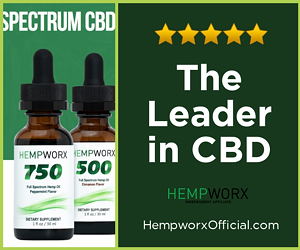 - September 15, 2019 /PressCable/ —
The U.S. Hemp Authority awarded Hempworx with it's prestigious high-quality seal.
The CBD market is being flooded with "bath-tub" operations.
There are only 13 companies with the US Hemp Authority Seal
The aim is "standardizing quality control and building a safer hemp industry from seed to shelf," according to the U.S. Hemp Authority.
Hempworx got it's start when Founder Josh Zwagil noticed a growing need for reliable, pure CBD. With vast experience in the health world, Josh Zwagil decided to go ahead and start in 2014.
"We like to do things to connect with our consumers and customers. Things like interact in our thriving Facebook pages and groups, and releasing these little factoids even after CBD Oil hits the market are what make all the difference."
HempWorx 750 CBD Oil
HempWorx 750 is a CBD oil product that contains 15mg of phytocannabinoid hemp oil in each serving. Unlike the majority of companies of CBD oil the HempWorx item includes no items such as alcohol or water that dilute and compromise the oil to make it cheaper to manufacture. HempWorx CBD oil is the pressed hemp seed oil, CBD-rich whole hemp extract and, if you pick it, a natural taste such as cinnamon or peppermint.
100% Laboratory Tested
Because it is necessary that you understand what you are purchasing HempWorx CBD oil is 100% lab tested and accredited. Naturally, many providers of CBD oil state the very same, however HempWorx provides you with a link to the real third-party test results and accreditations so that you can be sure that you get what you spent for.
3 Hempworx CBD Facts
1. CBD does not get you high
2. CBD is non-addictive
3. The CBD market is growing exponentially
There's plenty of research study into the benefits of CBD oils derived from hemp plants. If you struggle with one, or more, of those maladies, then CBD oil has something to offer you.
Visit here for more facts about hempworx
Release ID: 88915519