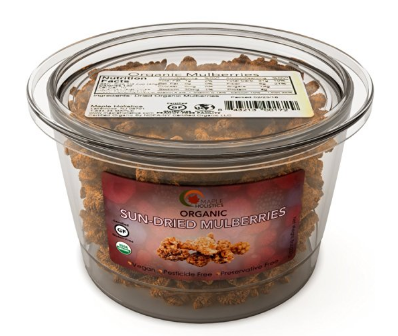 - August 29, 2016 /PressCable/ —
Building on their newfound success in the health foods market, Maple Holistics has introduced the latest in their line of organic snacks with new Sun Dried Mulberries. Following the releases of all-natural foods such as Pumpkin Seeds, Brazil Nuts and Macadamia Nuts, Maple Holistics seeks to combine the best in taste and health with Mulberries, which are 100% natural as well as vegan, gluten free, pesticide free, salt free, and kosher.
Sun Dried Mulberries are one of the most popular superfoods in the world. High in vital vitamins, minerals, and antioxidants, Sun Dried Mulberries offer great taste and flavor, making it one of the healthiest good-tasting snacks around. Whether eaten on their own or accompanying other foods and dishes, Maple Holistics Sun Dried Mulberries are a great healthy alternative to traditional fatty snacks.
A prolific purveyor of quality personal care products, Maple Holistics has been gradually expanding their reach into the health foods market in order to round out their range of products which are intended to promote a healthy lifestyle. Like all of their products, the organic Sun Dried Mulberries are all-natural and take into consideration environmental friendliness. The berries are packaged in BPA-free and re-sealable packaging, featuring the highest standards in processing methods in order to ensure that the berries retain their freshness. The 100% pure organic Sun Dried Mulberries are produced in an FDA and GMP certified facility, and are a non-GMO product.
Introducing a food, nuts, berries, and seeds line of products is the latest in the many developments from Maple Holistics. Based in the United States, Maple Holistics offers the purest and highest quality ingredients used in each of their products, maximizing the therapeutic potential for each specific area of health.
About the Company
Maple Holistics provides industry leading, all-natural hair, body, skin, and food products. The company offers a natural, holistic range of premium products which can enhance hygiene, health and daily living. Company products are made in the USA. For more information see MapleHolistics.com.
Release ID: 129908