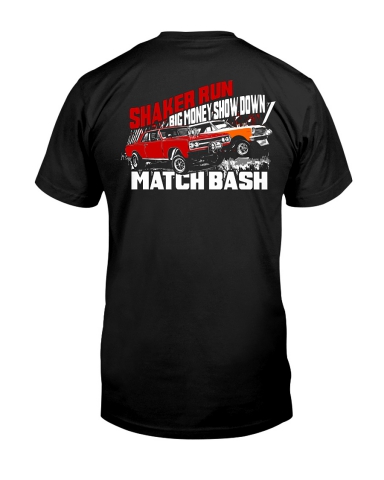 - January 31, 2018 /PressCable/ —
Quarter Mile Addiction, the online merchandise seller dedicated to supporting Pro sport and drag car races, has announced the latest addition to its store: Premium Fit Men's Tees featuring the Shaker Run Big Money Showdown Match Bash.
The best fun that car fans had was at the drag strips across America, and Quarter Mile Addiction wants to keep those memories alive. The new T-Shirt is the first factory experimental, altered wheelbase GM shirt and is the only one of its kind in the market. The Shaker Run Big Money Showdown Tee is available in black and dark navy in sizes from XS to 3XL. Also available with the product is a customized color changing, Shaker Run Match Bash coffee mug. You can see the first shirt of it's kind here Match Race Drag Racing.
The new merchandise will revive memories of the golden age of drag racing, when fans packed the drag strips to watch drivers settling their personal scores and battling it out in close matches. The car brands too were involved, with Ford, Chevy or Mopar trying to outscore each other. Since there were classes to limit the game's outcomes, competition was intense and emotions ran high. Although the prize money was fairly average for the day, the winner for each event could take advantage of the extra appearance fees and prize money offered to lure the big name drag racers. Many big names in pro car drag racing gave in to the craze and switched from class to match racing.
More popular than match races was the 'Chicago style' drag race. While in a match race, where only three races were held, the first two runs usually decided the winner. The 'Chicago style' drag races involved several cars doing one or two rounds, and then the top two winners or quickest cars battled it out for the trophy. Often in these races the boundaries were ignored, with all cars vying to be the first to cross the finish line.
The new Shaker Run Big Money Showdown Match Bash T-Shirts can be bought from the official store of Quartile Mile Addiction. Deliveries take 5-10 business days, with a rush 3-day service available for anyone dying to get their hands on the product. All merchandise is proudly printed in the United States.
For more information, please visit: http://quartermileaddiction.com
Release ID: 293801