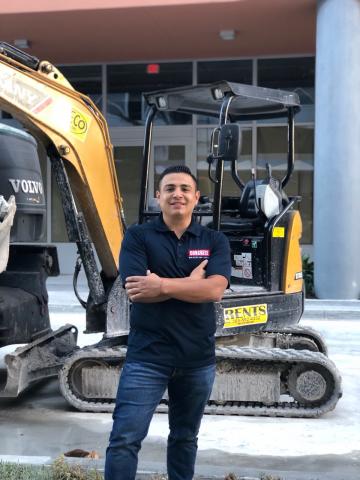 - February 20, 2019 /PressCable/ —
Digital Marketer and head of Concrete Marketing Crew, Danny Barrera has received the prestigious Rookie of the Year award for his outstanding growth and performance in 2018. Co-Owner of Plumber SEO and creator of the 7 Figure Agency, Josh Nelson awarded Danny Barrera with said distinction in December 2018. Over 165 candidates were in the running for this distinction, yet Danny Barrera far surpassed them all.
Danny Barrera is a former IT Analyst for the news giant Fox News in New York City. He was a valued employee of the company and was being considered to head his IT team when he decided to begin the quest for his own SEO and Marketing career.
For over 8 years, Danny Barrera has perfected his formula and technique and is a rising star in his area of expertise. He is the head of and the lead marketer of the quick growing marketing firm called Concrete Marketing Crew, which specializes in Search Engine Optimization and Internet Marketing for Concrete Contractors. He is quickly paving the road to become a giant in this niche and has the results to prove it. He is effectively perfecting his craft by creating a sought after course that provides Concrete Contractors with the tools necessary to grow their business presence on the internet. Along with a published book, and participation in various Concrete Expos throughout the United States, Danny Barrera is proving to be a force to be reckoned with in the SEO and digital marketing world.
"Danny Barrera has been the most pivotal part of our company, and someone who we can count on to bring the latest innovations and trends to our business. He is beyond knowledgeable, and gifted when it comes to growing a business's online presence. He is the backbone of the company, and a key part of our growth. I am very proud of his accomplishment, and I know it is not the first of its kind," Maday Garcia, president of Concrete Marketing Crew's parent company, Lion's Den Digital Holdings, LLC.
Danny Barrera continues his quest for dominance by continuing to strive for excellence in his field of SEO and digital marketing with his passion for creating solid online presence for multiple concrete companies throughout the US. His Rookie of the Year award is surely the first of many distinctions for this young and brilliant leader.
When asked how he feels about this recognition Danny Barrera states "Decorative Concrete is a fairly new industry in the United States and I have made it my mission to be a pioneer and use seo and internet marketing to help build 150 seven figure businesses by 2025. I feel privileged to be mentored by Josh Nelson and Jeff Fisher, who are proven and established entrepreneurs and leaders of their kind".
Release ID: 483975