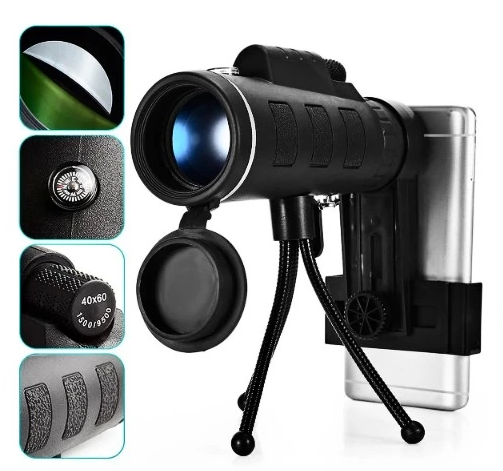 - December 8, 2020 /NewsNetwork/ —
Online retailer Home Treasures Hub has recently added a new HD adjustable waterproof optical lens monocular telescope to its range of products for people looking for gifts for themselves or their outdoor-activity loving friends and family.
More information is available at https://hometreasureshub.com/products/hd-ajustable-waterproof-40×60-zoom-optical-lens-monocular-telescope-with-tripod-for-outdoor-camping-traveling?_pos=1&_sid=009805816&_ss=r
The newly added HD monocular waterproof telescope from Home Treasures Hub aims to be suitable for a range of uses such as camping, hunting, climbing, hiking, and other outdoor pursuits. The telescope benefits from several key features such as an in-built compass, day-night vision, and a wide field of vision. Furthermore, the monocular is compact and lightweight, making it suitable for both adults and children to carry when traveling outdoors.
When searching for equipment for camping or other outdoor activities, people need to be sure that the items they purchase are practical and durable for their intended uses. Additionally, equipment that can perform a range of functions can mean carrying fewer items, and therefore less weight, which can be a vital concern when traveling outdoors. Home Treasures Hub is aiming to give people the benefit of products that can meet their requirements.
The HD optical lens monocular telescope that has been added to Home Treasures Hub's range of products benefits from a visual distance magnification of up to 9500m with a BAK4 prism lens design for clear and colorful views. The telescope also uses an FMC multi-layered enhanced green film, which aims to increase the transmission of light in brighter conditions as well as reducing eye strain and tiredness for the user.
For mobility, the HD adjustable telescope's design aims to be a compact and lightweight solution for people when traveling. The monocular telescope measures 5.91 inches in length and 2.05 inches at its widest point and features a durable rubber coating, an anti-skid texture, and dust-covers for further protection when being transported.
People wishing to use the telescope for photography can also benefit from the included tripod and phone clip, which allows them to use the scope hands-free while providing a stable base for taking photographs.
Based in Austin, Texas, Home Treasures Hub aims to find, create, and manufacture innovative items for its customers from sources around the world. The online retailer also provides customizable items for gifts, including jewelry that can be crafted for special occasions.
Interested parties can find more information by visiting the website mentioned above.
Release ID: 88988819