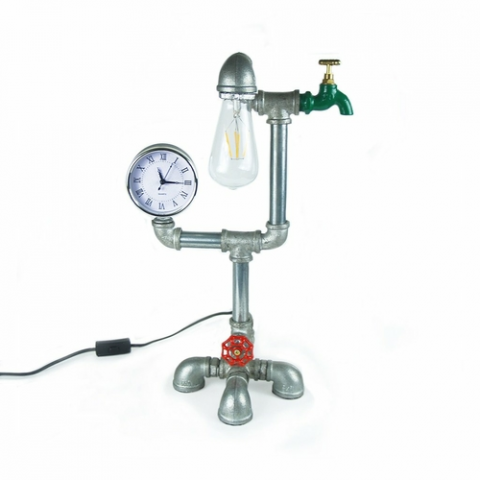 - May 12, 2021 /PressCable/ —
Deal Article, an online company based in Hawthorne, California, recently announced the launch of a steampunk lamp. The innovative home decor item was tailor made for customers who are searching for unique, eclectic items that are also functional.
More information is available at https://dealarticle.com/product/steampunk-lamp
With the latest announcement, the company launched a lamp that features a steampunk, plumbing pipe, style of design. In addition to the lamp, the company also offers: jewelry and watches, tech accessories, bath and beauty, home and garden, bags and wallets, bedding, and products for kids, babies, pets, and health.
Steampunk is a style of design and fashion that combines historical elements with anachronistic technological features inspired by science fiction. The style continues to maintain its position as the most popular of the "punk" styles as opposed to cyberpunk and diesel punk.
The steampunk aesthetic is inspired by the fashions of the Victorian Era in England (1837-1901). During this era, the clothing was often modernized by way of mechanical elements showing.
The steampunk lamp has a plumbing pipe design at its base. The pipes branch out to a working, battery powered clock and light bulb. It also features a water spigot and knob that are for decoration only. The dimensions are 12.50"L x 9.00"W x 20.25"H. All orders in the USA receive complimentary shipping.
Deal Article is an online company that procures trendy items at affordable prices. The company finds, creates, manufactures, and ships a wide variety of innovative products.
A spokesperson for the company stated, "Designed by a mad scientist, this lamp bears all the marks of the deranged, tortured mind that created it. The green faucet serves no purpose whatsoever and just sits there doing absolutely nada. The 5.5' long cord has a perfectly fine, normal switch on it. Yet the red valve also serves as an on/off thingy when you keep turning it around and around till the cows come home. But it's not even a dimmer. So what's the point? Despite its lunacy, the piece looks really great. Go figure. Apparently, crazy is the new beautiful."
Interested parties can find additional information at https://dealarticle.com/product/steampunk-lamp
Release ID: 89013843