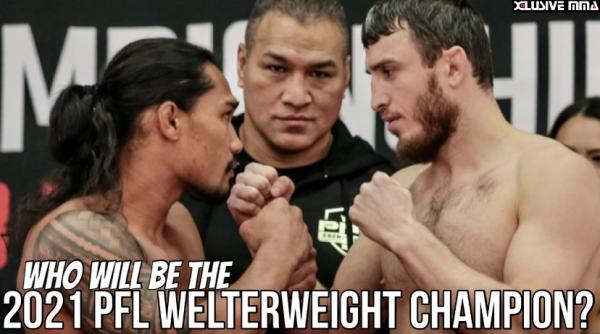 - August 23, 2021 /PressCable/ —
Hawaii Fight News: Ray Cooper III to face Magomed Magomedkerimov on October 27, 2021
There's too much history between the two PFL Welterweight Title Challengers. On Oct. 27, Ray Cooper III will rematch Magomed Magomedkerimov in the 170-pound finals – the two met for the million-dollar prize in 2018.
Ray Cooper III and Magomed Magomedkerimov met in 2018 – PFL Welterweight Championship
Magomed Magomedkerimov submitted Ray Cooper III on the second round via Guillotine Choke. It was a surprise seeing Ray Cooper defeated at an early round. He was caught off guard. Everybody was stunned because Ray Cooper was the crowd favorite.
Watch Magomed Magomedkerimov vs. Ray Cooper iii Fight Highlights:
2019 – PFL Welterweight Championship
Magomed Magomedkerimov and Ray Cooper iii were scheduled to meet in the Finals of the 2019 PFL Welterweight Championship, but Magomed Magomedkerimov couldn't continue. Magomed Magomedkerimov suffered a costly win during his fight against Chris Curtis. Magomed Magomedkerimov was out.
Ray Cooper iii was crowned the 2019 PFL Champion and won the prize.
On October 27, 2021, the PFL Welterweight Championship will take place.
Magomed Magomedkerimov will face Ray Cooper III on a 5 Round War. Who do you think will win?
The big question is, how will Ray Cooper defeat the Russian Warrior Magomed Magomedovkerimov who submitted him in 2018?
Awaiting him in the welterweight finals with $1 million on the line will be a familiar enemy, the same man who defeated Cooper in 2018's season one finals, No. 4-seeded Magomed Magomedkerimov (29-5).
"I knew this was going to happen," Cooper said. "This was my plan. I'm going to run through everybody and I get him next. You're not going to be able to get away this time."
Magomedkerimov steamrolled over injury replacement Sadibou Sy (9-6-2) in the night's co-main event to win a unanimous decision (30-27, 30-27, 30-27) and advance to his second welterweight final of PFL's three seasons. In a grinding and sluggish fight, Sy had no answer for Magomedkerimov's takedown, and though neither man scored much — if any — substantial offense, Magomedkerimov was in complete control throughout the bout.
The 31-year-old Russian now holds an undefeated 10-0 record inside the PFL cage and very well could've been fighting for his third consecutive championship had he not been forced to withdraw from season two's tournament due to an injury he suffered in the quarterfinals.
The 28-year-old Hawaiian now holds 5 consecutive win streak inside the PFL cage.
Who will win the $1,000,000 and be crowned the 2021 PFL Welterweight Champion?
MAGOMEDKERIMOV VS. COOPER III FIGHT PREDICTIONS
Tapology Fight Predictions of Magomedkerimov vs Cooper part 2
– MAGOMEDKERIMOV 78%
– COOPER 22%
It is very early to predict but seems like Magomedkerimov is the crowd favorite in PFL Season this year.
Release ID: 89042500