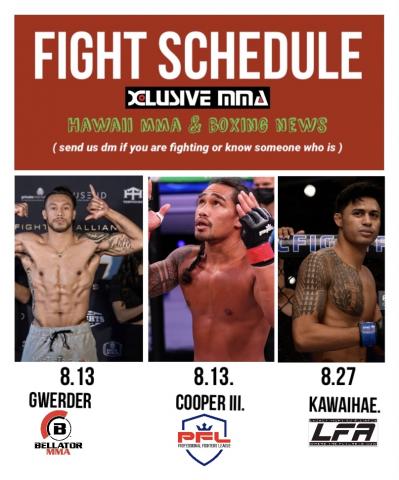 - August 3, 2021 /PressCable/ —
Xclusive MMA – Hawaii Fighter Network has released the monthly "Hawaii Fighter Schedule for August 2021."
Hawaii Fighter News – Xclusive MMA is Sports Media based in Honolulu, Hawaii, covering Hawaii Fighters, Fight News, Fight Results, and Fight Video Highlights.
Hawaii Fighter Fight Schedule for August
Find out who will scrap this month!
Check out the lists of Hawaiian fighters/fighters from Hawaii fight schedules (the lists are subject to changes.)
This month of August, fights will be Ray Cooper iii, Ty Gwerder, and Canaan Kawaihae.
Hawaii Fighter Fight Schedule for August 2021
1. Reigning Champion Ray Cooper iii upcoming bout against Rory MacDonald.
PFL 2021 #7: Playoffs presents the Welterweight bout against the reigning Champion Ray Cooper iii vs Rory MacDonald on August 13, 2021
Ray Cooper iii and Rory MacDonald are equal in experience, both have 22-7-1 fight records. The only difference is Ray Cooper has earned Welterweight Title and won the million dollars in the 2019 playoffs.
The event will take place on August 13, 2021, at Ocean Resort Casino, Atlantic City.
MacDonald and Cooper III will be the MAIN EVENT of the PFL SEMI-FINALS TOURNAMENT.
Cooper said during the 2021 PFL 2 media day.
"I'll stomp Rory MacDonald twice – 'if he even makes it through the season."
"We'll see how his body holds up, and let's see how mentally tough all these other fighters that have to fight four times within six months (are)," Cooper said. "I did it twice. I've got eight fights in these two years. So we'll see how tough these guys are."
PFL 2021 #7: Rory MacDonald vs. Ray Cooper III official for August 13, 2021
2. Ty Gwerder upcoming bout against Khadzhimurat Bestaev
Hawaii Bellator fighter Ty Gwerder will face Khadzhimurat Bestaev at Bellator 264: Mousasi vs. Salter
The event will take place on August 13, 2021, in Uncasville, Connecticut
The Middleweight bout (185 LBS | MMA) will be on the PRELIMINARY CARD of Bellator 264
Hawaiian fighter Ty Gwerder, 26 years old, holds a record of 5-2-0. Gwerder is coming off a decision loss to Dalton Rosta at Bellator 250. This fight will mark Gwerder's 4th fight with the organization. With two losses and one win, Gwerder is looking forward to getting back on the winning side.
Ty Gwerder's opponent, Khadzhi Bestaev, is also coming off of a loss from Dana White Contender Series. Bestaev has a fight record of 10-4-0; Bestaev will be making his Bellator debut, and who better to welcome him than the seasoned Hawaiian Vet – Ty Gwerder
Both men will be looking for a win under Bellator.
Bellator 264: Ty Gwerder vs. Khadzhimurat Bestaev official for August 13 card
3. Canaan Kawaihae upcoming Title Bout against Bruno Souza
CONFIRMED UPCOMING MMA EVENT
Hawaiian LFA fighter Canaan Kawaihae will be headlining LFA 114 against Brazil's Bruno Souza. The event will take place on August 28, 2021, in St. Louis, Missouri.
Hawaiian fighter Canaan Kawaihae is a 23 years old MMA fighter who holds a record of 6-1-0. Kawaihae is coming off a massive win against Jake Childers at LFA in April this year. Canaan Kawaihae submitted Jake Childers via Ninja Choke on the very first 20 seconds of Round 1. That win set him up for this month's Main Event against a Top Brazilian opponent – Bruno Souza
Bruno Souza, a 26 years old fighter from California, has a fright record of 9-1-0. Fighting in LFA since 2019, Bruno Souza has a nine-win streak. This will be his 5th fight with the organization.
MAIN EVENT | LFA VACANT FEATHERWEIGHT CHAMPIONSHIP | 145 LBS
LFA 114: Bruno Souza vs. Canaan Kawaihae official for August 27, 2021
Xclusive MMA – Hawaii Fighter Network's complete article can be found at https://xclusivemma.com/hawaii-mma-fight-schedule-august-2021/
Release ID: 89039845