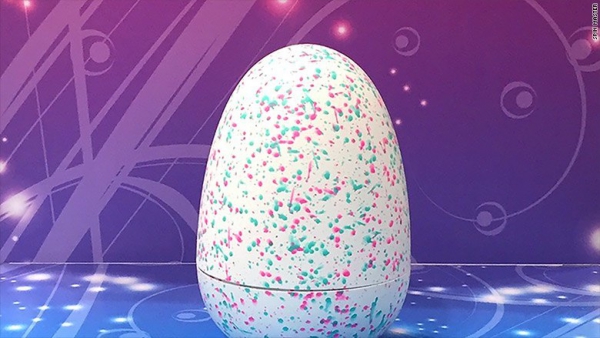 - October 5, 2016 /PressCable/ —
Maybe little has been heard of this toy yet, but that is because everything about it is being kept under wraps. Within the toy scene, there has been a rumbling about a new toy coming soon, one expected to hit the shelves, and be an instant hit. This toy is named "Hatchimals", and while little is known so far, slowly more news is being released, and the anticipation awaiting this toy is only rising. The toy is such a closely guarded secret; there is almost zero information about it on the internet. Only a few pictures exist. However, despite all this, toy enthusiasts are expecting it to be one of the hottest toys of 2016. Learn more at http://hatchimalstoys.com/
Everything seems set up for Hatchimals to be a success. It has already received awards, despite little information being known about the product. With a perfect release schedule aimed at pushing the marketing in the run up to Christmas, a lot more is expected about this new toy.
There has been a few hints leaked so far. The anticipated announcement date is expected to be in October. The actual release date is expected to be in the fall, and should retail at a recommended price of $59.99. This schedule is perfectly timed for the toy Hatchimals to become one of the hottest toys of Christmas 2016. While it could be too early to say it is guaranteed to be a successful toy, the small amount of publicly known information suggests that it has the potential to do so.
While all that information allows people to know that Hatchimals exists, and that it is on its way to retail stores in the upcoming months, it does not exactly shed any light on what the toy is; this information has been kept secret. However, due to New York Toy Fair recently being hosted, more information has been revealed. While it was so closely guarded nobody could take any photos or videos of the toy, many people had a positive reaction to seeing it on display. Supposedly, Hatchimals will be an interactive toy, being a unique creature aiming to capture the magic of friendship, and cultivating the feeling of a surprise. Initially, the toy will take the form of an egg, but after being held, it will hatch into a creature which interacts with the children. Hence the name "Hatchimals".
The splash they made at the Toy Fair 2016 has even resulted in a few awards, as the toy received the "Coolest Toy Award" by Savvy Auntie, a website community focusing on providing support and tips for people whose siblings have children. Despite not being publicly launched yet, it is making waves in the toy world and is already attracting much attention.
Release ID: 136078