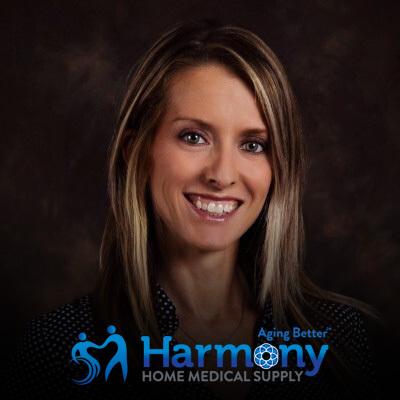 - August 24, 2021 /PressCable/ —
Founder and Owner of Harmony Medical, Erica Sell recently put a new twist to hospital beds as she included new lines of high functioning beds that can be brought home for mobility-challenged individuals.
Founder and Owner of Harmony Home Medical, Erica Sell included a new line of high-performing beds that can be placed at home and be used by individuals having difficulty with traditional supine positioning in bed.
According to Sell, most people get a semi-electric bed when it is in their insurance or when left to their own devices. "And I strongly recommend against it," said Sell. "Because traditional hospital beds like these don't have height adjustments and are limited in their vertical movements and ease of use."
What Sell does recommend is the newest line of Long Term Care Beds.
Unlike the bulky and semi-electric style hospital beds, these Long Term Care beds care about style and function. Some offer different colored head panels and in-board foot controls.
High-end mattresses with specialty foam or air are available for these. With improved weight distribution, it puts the body in less stressful positions even while spending long periods lying down.
Another thing that comes with Long Term Beds is its ability to adjust horizontally (up and down) for height convenience especially to individuals who have trouble standing up or reaching their feet for that matter. The beds go higher than a hospital bed to accommodate the caregiver, so they do not need to bend down so far to do changes in bed.
"It can really get close to the ground about 7 inches. So if they are a fall risk in bed, then they can keep the bed close to the ground to prevent injury while sleeping" Sell continues.
Another thing to consider with Long Term Beds is that it offers a backup battery in case of power outages, something no hospital bed does.
"These beds are perfect for the home. They're stylish and they maintain your independence as they follow you on your aging process. These are flexible choices in making your life better." Said Sell.
People who can get these new highly functioning home beds don't need to be severely paralyzed or in serious medical conditions.
Sometimes with symptoms as simple as back pain or acid reflux using a long-term care bed can make big difference in the quality of life and sleep for that matter. They also accomplish positions hospital beds cannot like slope or acid reflux position, Trendelenburg, and chair position on some models.
Erica Sell started Harmony Home Medical in 2009 with a box of equipment and a small loan from her mom. She grew Harmony Home from a small office in Convoy, San Diego to a 5000 sq ft showroom and is opening another one in 2021.
Rather than an insurance-based business model, Erica focused on a people-centric model where selling is determined based on people's needs. Due to this strategy, she was able to weather Medicare and PPO cuts for the past 5 years. She thrived even though 40% of her industry went out of business.
Sell consistently innovates on the latest products and trends. She had Harmony Home Medical venture into home access and construction. After noticing that people wanted to stay independent for as long as they can AT HOME, she and her team created a complete home access division that can install lifts, grab bars, even whole showers in homes.
Erica grew up in Northern California and attended Pepperdine University. After graduating from UCSD, she decided to fulfill her passion for helping people in need through her successful Home Medical Supply Business. She is a certified Assistive Technology Professional (ATP) and Certified Aging in Place Specialist.
Find Harmony Home Medical at 7640 Clairemont Mesa Blvd San Diego, CA 9211 and call (858) 560-8177. You can also email Erica at erica@harmonyhomemedical.com or visit their website https://harmonyhomemedical.com.
Release ID: 89042824