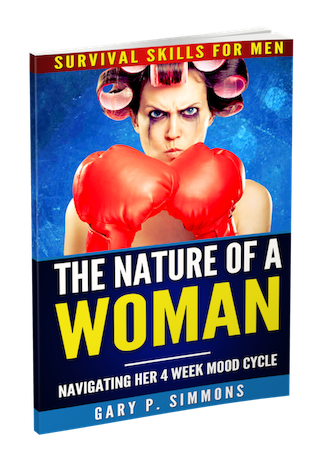 - December 29, 2017 /PressCable/ —
The Nature of a Woman: Navigating Her 4 Week Mood Cycle by Gary P Simmons, is a new book written by a layman for the "Everyman" so they can understand the moods of a woman or more specifically, their partner. It also provides men with clever, practical and concise tips on how to nurture and strengthen their relationship.
This thought provoking book has been written in an easy to understand manner without medical jargon, the author leads us through his four stages of female moods that, he explains, roughly coincide with the four weeks of the menstrual cycle.
The four stages – Relief, Love, Restless and Volcano – are explained in detail, from not only the female perspective, and what she's feeling, but also from the male perspective.
Understanding the four stages is merely half the battle. In The Nature of a Woman: Navigating Her 4 Week Mood Cycle, Gary P. Simmons goes on to not only point out all of the warning signs associated with each stage, but offers a road map of how to best counteract even the toughest of situations.
At first glance, some women may cringe at this book and jump to conclusions. However, women who take the time to read and digest the content, soon realize that Gary P. Simmons, respects and understands women.
Mr. Simmons, is not a medical professional, but someone who has been there with us men in the trenches. He has taken the painstaking time to research how to make a relationship work. The Nature of a Woman: Navigating Her 4 Week Mood Cycle is where he puts his theory and resolutions onto the page, to share with the rest of us clueless males, for which he should be commended. That is, of course, assuming we can follow directions. For more information
Release ID: 281741