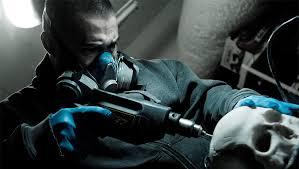 - April 26, 2021 /PressCable/ —
Zane Wylie, an Alexandria VA-based artist specializing in carved real and replica human skulls, recently released a new interview revealing inside information on his unique methods of carving and decorating human skulls. Wylie gave an interview in which he talked about how he came to be carving skulls, his techniques for doing so, and answered several commonly-asked questions.
More information can be found at https://realhumanskull.com/articles
The newly released interview illustrates Wylie's unusual journey that led to his unique art and talks about his work's appearances on several major television shows.
Wylie also gives a nod to fellow area artist Chris Erney, who taught him to make molds, which encouraged him to expand his themed offerings to include replica skulls. Wylie says that replica work is "easier, faster, and it smells better." It takes anywhere from twenty to two hundred twenty hours to finish decorating a skull, depending on the design and whether it is real or a replica.
Wylie creates unique works of art by custom-carving each skull individually. Carving themes range from Viking and Celtic to Masonic and Gothic. Both original pieces and high-quality replicas are available for purchase to private collectors. Replicas are also available on a rental, purchase, or commission basis to professional production companies.
In the interview, Wylie explains that he started out decorating two deer skulls in a tribal motif and selling them. He was soon able to afford to upgrade to human skulls, at which point he met Erney and switched to largely working on highly realistic replicas.
Wylie's custom-decorated skulls have been used as props on the television programs "Constantine," "Preacher," "Locke and Key," and "Ghost Rider," as well as becoming prized possessions of several celebrities.
With this new interview, Zane Wylie explains how he continues to deliver exquisitely crafted pieces that are one-of-a-kind.
One satisfied customer: "A perfect heirloom. A beautiful and professionally crafted work of art that I proudly display in my home. The detail on the hilt is beyond description."
Those interested in ordering one of Wylie's conversation-starting creations should visit the above website, or go to https://www.realhumanskull.com
Release ID: 89007058