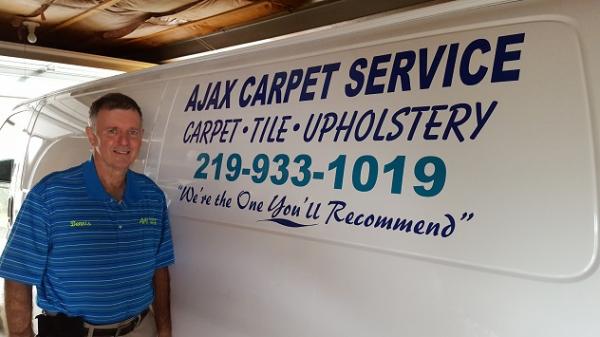 - November 7, 2021 /NewsNetwork/ —
Ajax Carpet Service's latest launch provides customers in Hammond, Schererville, Merrillville, Portage, and Valparaiso with cutting-edge, non-toxic cleaning solutions. The dedicated team of experienced technicians ensures that properties are left germ and dust-free at competitive rates.
More details can be found at https://ajaxcarpetservice.com
The announcement details an expanded range of carpet and upholstery treatments, including hot water extraction procedures. While traditional cleaning methods such as shampooing and dry chemical processes may be adequate for some homes, the company specializes in hot water extraction.
According to Lifehack, carpets can hold up to 4 times their weight in dirt. The same fibers that create warm and comfortable flooring for millions of Americans are also a trap for everything from dust mites, hair, and insects to dead skin cells, mold, bacteria, and many other allergens. These combine to create a serious health risk for environmental allergy sufferers.
Although regular vacuuming can help keep germs at bay, only professional deep cleaning can eliminate the harmful accumulation of unhealthy bacteria. Ajax Carpet Service offers expertise in the thorough sanitization of all types of fabric flooring, from deep shag pile rugs to thinner carpet coverings.
The flagship service from the Ajax team is Truck Mounted Water Extraction. This involves pre-spraying the carpet with an alkaline solution which is then worked into the fabric using a special rake. This process releases the dirt held within the fibers before a chemical-free, heated clear water rinse is applied. Final grooming and brushing procedures ensure that no marks or spots have been missed and that the fibers are settled in the same direction.
About Ajax Carpet Service
The company was founded in 1978 by Dennis Mamelson. The original business offered carpet installation to the residents of Hammond, IN, and the surrounding areas. By 1989, the company had evolved and began to specialize in cleaning services. Ajax Carpet Service provides industrial-grade sanitization for commercial and residential customers alike.
A spokesperson says, "Many cleaning methods rely on harsh chemicals that can pose health risks for people and pets. Thanks to the power of super-heated water, gentler solutions are sufficient. Hot water extraction leaves your carpets virtually residue-free."
With its latest service update, Ajax Carpet Service affirms its reputation as Indiana's premier deep fabric cleansing provider.
For more information, please visit https://ajaxcarpetservice.com
Release ID: 89052171