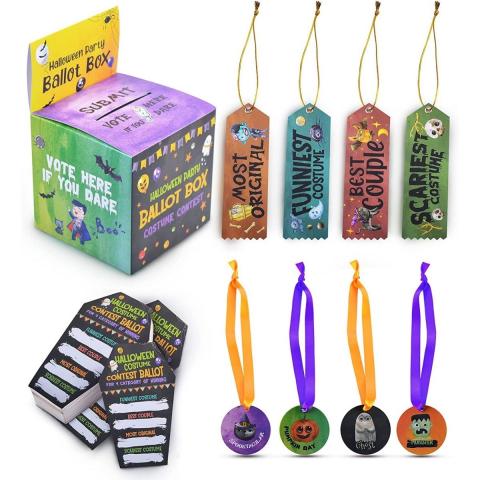 - September 22, 2021 /PressCable/ —
The new kit features best costume awards, participation medals, voting cards, and more. Intended to deliver more excitement to any Halloween party, it is suitable for children and adults alike. It is illustrated with cute and vibrant graphics that everyone will appreciate.
More information can be found at https://www.amazon.com/Halloween-Trophy-Party-Awards-Costume/dp/B09DGN21XD?maas=maas_adg_9CD4F2EB7922604D69525B750349FC7C_afap_abs&ref_=aa_maas
The product was launched to provide customers with a complete set of tools to effectively execute a fun and creative Halloween costume contest.
According to the holiday experts, the month of October is one of the busiest times in the party industry. People start planning for their Halloween costumes and decorating their homes—making sure they are always better and more creative than the year before.
Fostering an atmosphere of imagination and ingenuity, Hallows Eve parties are the most suitable events to hold costume parties. With the holiday drawing near, WG Wholesale is presently offering Season4Sparkles branded voting cards and ballot box products for such festivities. The package includes 50 poll cards, 4 awards ribbons, 4 medals, and 1 ballot box.
The product makes for effortless contest conceptualization as each award ribbon is conveniently labeled with predetermined winning categories—Scariest Costume, Most Original, Best Couple, and Funniest Costume.
Those who wish to cast their votes may use the 50 cleverly-designed coffin-shaped ballots. Participants may write the names of their candidates in the space provided for each category. Then, ballots may be dropped in the ballot box. The box is made of durable cardboard that can be folded into shape, and the seams are constructed with adhesives for easy assembling.
The participation medals included may be utilized as rewards for those who do not win but deserve recognition for their efforts and originality.
The kit is a great tool to teach children about the value of healthy competition, developing self-esteem, managing their expectations, and learning to celebrate the victories of other people.
According to a spokesperson from WG Wholesale, "The Halloween costume contest ballot kit will make a great addition to Halloween-themed costume parties, company parties, and trick or treat activities."
Interested parties can visit https://www.amazon.com/Halloween-Trophy-Party-Awards-Costume/dp/B09DGN21XD?maas=maas_adg_9CD4F2EB7922604D69525B750349FC7C_afap_abs&ref_=aa_maas
Release ID: 89046528