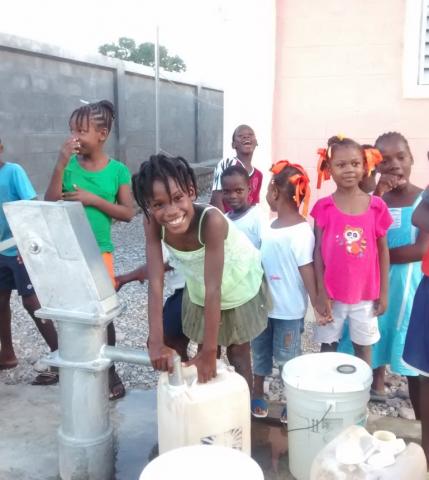 - September 16, 2020 /PressCable/ —
Water For Life Haiti, a longstanding non-profit organization that was founded in Iowa in 1983, has launched a campaign aimed at new email subscribers for its free monthly newsletter. A private donor has agreed to fund clean water for one person for up to one year for each new email subscriber.
Sign up at https://www.wflhaiti.org/newsletter
The newly launched campaign is aimed at new email subscribers of the free monthly newsletter. The project will provide clean water for residents of Haiti to prevent disease and build communities. Water For Life Haiti drills deep wells for orphanages, churches, missions, schools, and villages throughout the country.
Maintenance on all wells is provided by the charity, which utilizes fundraising to support its projects and campaigns. In addition to clean water, the charity provides jobs for local Haitians, mobile health clinics, and operates a school.
Water For Life Haiti focuses on providing clean water for communities in a bid to maintain health and prevent disease. It also helps farmers to implement clean water irrigation systems, which will enable communities to grow their own crops and become self-sufficient.
The charity endeavors to generate funds for local projects as it is proven that close access to clean water can help to prevent child slavery, as some children have to walk miles to collect dirty water. A deep well created by Water For Life Haiti can provide clean water for over 30 years, if it is properly maintained.
It is free to receive the monthly newsletter, which includes updates and statistics on the number of wells drilled, meals served, and hand pumps repaired. People can donate and support Water For Life Haiti in a number of ways. They can sponsor a well, maintain a well, or sponsor a child at the Pre-K thru 12 grade Divine Help School.
If donors decide to sponsor a child, they are sponsoring the education of the next generation of students. There are flexible payment options, which enables donors to choose the impact they have.
A company spokesperson said: "We've drilled over 2,000 wells in Haiti, but more are needed. As a charity, we rely on the generous donations and fundraising activities of our supporters to operate. We appreciate the efforts of everyone involved and hope people will sign up to receive our free newsletter to support our campaign."
To find out more, interested parties can visit the website here https://www.wflhaiti.org
Release ID: 88976996