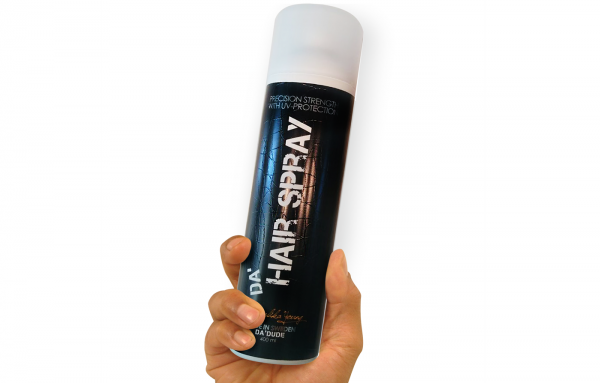 - December 20, 2020 /PressCable/ —
Da' Hair Spray for men is an exceptionally strong hold hairspray that works perfectly with all types of hair; thin, thick, normal, long, short, or messy. It offers the ultimate hair styling longevity, providing a natural look and strong hold all day long. (Details can be found on Amazon UK website https://www.amazon.co.uk/DaDude-Hair-Spray-Men-Hairspray/dp/B00U6MROMO)
The special 15% offer is scheduled to last for a limited time, and to provide great financial relieve to young and single men within the age range of 20 to 35, across Europe. The hair spray comes in a gift box. This makes it a great gift to buy any man because other hairsprays are not boxed in this outstanding way.
The director of Da'Dude Company, Gary Young said that the decision for this offer was as a result of hard times experienced by most people in recent days. "In these hard times, I have decided to make this special offer for the holiday season. I am confident that Da'Hair Spray will be a great gift to any man who is not bald!"
Da'Dude Company is an EU certified haircare and beauty company, which produce cutting edge hair products inspired by the company's desire to make the best quality hair products that can provide the end-users with an incredible experience and utmost satisfaction. The Da'Hairspray comes with a fresh fragrance that is lovable by anyone and in a large 400 ml, spray can, large enough to last for months.
Young and single men within the age range of 20 to 35 across the UK are, therefore, expected to use this limited-rare opportunity offered by Da'Dude brand. This is a special hairspray that has been formulated to withstand the elements of humidity, wind, and rain..
To know more about the qualities of Da'Hair Spray, watch Da'Dude's hairspray tutorial https://www.youtube.com/watch?v=vzvNh312smI. It can be purchased the Da'ducue office e-commence store by clicking the following link https://younghair.net/pages/extra-strong-hold-hairspray-best-strong-hold-vegan-hairspray-men-400m-and-strong-hold-hair-wax-matte-finish
Release ID: 88990726