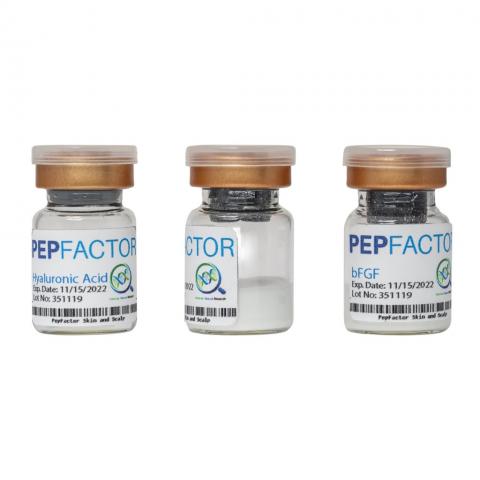 - October 16, 2020 /PressCable/ —
Cosmetic and wellness practices can benefit from a newly launched range of wholesale hair restoration kits, skin rejuvenation, and hair regrowth products. Face Med Store aims to provide clients with high-quality products at an affordable price, so their customers can ultimately benefit.
More details can be found at https://facemedstore.com/products/human-recombinant-basic-fgf-for-skin-rejuvenation-pre-order
The newly launched range of products includes the Pep Factor for Skin Rejuvenation, which is a proprietary blend of peptides and nutrients that are beneficial to the health of the scalp. It is designed to visibly improve the appearance of skin and is available in a topical formulation. Results are visible after one application as skin appears brighter and well moisturized. Find out more at https://facemedstore.com/products/copy-of-human-recombinant-basic-fgf-for-scalp-rejuvenation-pre-order.
To improve the appearance of hair on the scalp the Pep Factor for Scalp Rejuvenation can be added to any skin care routine. Users of the product typically see an improvement after using the product for between two and four weeks. The products are ideal for people who feel self-conscious about their hair or skin and want to boost their confidence.
Face Med Store and its specialist team explain that each of the products they supply is a comparable alternative to more expensive options available on the market. For retailers, wellness clinicians, and practitioners, this means they can decrease their expenses while improving their profitability. In addition, they ensure their patients receive the best treatment possible for less compared to other treatment centers.
Aside from scalp, skin, and hair rejuvenation products, the company also provides safety goggles, syringes, microcannulas, hydra needles, plasma pens, and more. The team are well placed to support aestheticians around the US and understand the importance of high-quality products as they say the marketing is growing.
A company spokesperson said: "Our Pep Factor products provide consistent results among clients and has enabled many people to experience youthful skin as well as renewed growth of hair. Researchers have made several innovations in molecular medicine and valuable ingredients for their delivery systems. We want our kit to provide the maximum amount of benefits for what our clients need, when they need it."
Interested parties can find more information by visiting the websites above, as well as at https://www.facemedstore.com.
Release ID: 88980936