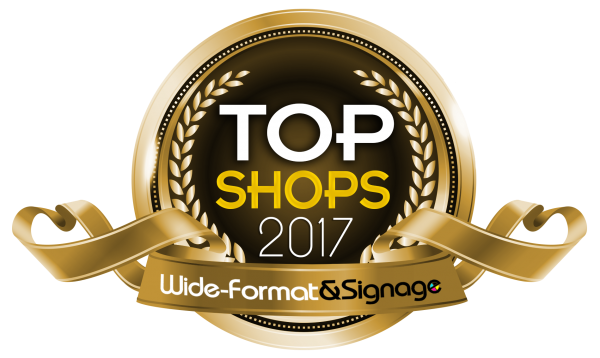 - June 15, 2017 /PressCable/ —
Hackworth has been named to the 2017 Top Shop list by Wide-Format & Signage magazine. The Chesapeake based printing company is ranked 33rd overall in the nation and 1st in the state of Virginia. This is the fourth year in a row that they have been selected by the industry publication.
According to Wide-Format & Signage the top printing shops are seeing record success: "Our Wide-Format & Signage Top Shops again had a banner year in 2016 – the 60 Top Shops reported cumulative sales of more than $882M last year, a sizeable increase of nearly 22% versus the previous year. This builds on last year's growth, when shops reported a growth of 13% over the previous year."
This year has already been quite successful for Hackworth as they were named the 2017 Chesapeake Small Business of the Year by the Hampton Roads Chamber. Continued excellence is a trait the Hackworth family have pursued as owners of the business.
"Each of our employees have risen to a high standard that many companies like ours would like to obtain," said President Charlie Hackworth. "I greatly appreciate the dedication and loyalty of our team."
Hackworth, a digital printer, represents one of many different types of print companies in the Top Shop List.
The article stated, "Fifty-seven percent of this year's Top Shops identify themselves as a Digital Color Shop/Digital Printer. The remaining shops are split between: Sign Shop (15%), Commercial Printer (8%), Service Bureau (7%), and Reprographic Shop (3%); 10% indicated 'Other' (with descriptions ranging from 'screen printer' and 'digital fabrication specialist' to "visual marketing solutions provider' and 'creative production agency')."
About Hackworth
Hackworth, a State-Certified, Small Business (SWaM) in Chesapeake, Virginia, was founded in 1991 when it started out producing blue prints and technical documents. Today, they are a full-fledged printing, graphics and wide format technology solutions business under the leadership of Dorothy and Charlie Hackworth and their son Charles II. Learn more at http://hackworth.co.
Release ID: 207952