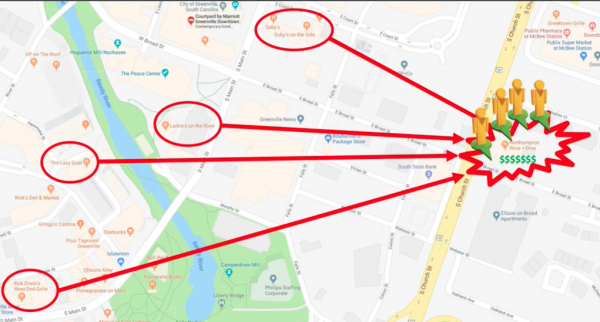 - December 19, 2017 /PressCable/ —
Earlier today, Imagine Agency announced the launch of GEO Data Tracker, its new Digital Mobile Tracking Technology set to go live December 26, 2017. For businesses who do pay-per-click advertising or marketing with a geo-fence app, this launch will be worth paying attention to, as it's set to shake things up.
Until now, forward-thinking businesses have been using a "geo-fence" which allows them to send a text message or a push notification to a person who enters a certain geographic area near their business, assuming that person has downloaded that business' app. Imagine Agency's marketing director, Rick Walker, makes a point of saying "things are going to change when GEO Data Tracker launches."
Rick Walker continues… "Using a car dealership or an RV dealer as an example, these businesses would want to track everyone within the walls of 4 or 5 nearby competitors and show them ads to lure them in — and keep showing them ads for months after until the dealership gets the sale or conversion.
This is also highly effective for dozens of business niche's from restaurants to personal injury attorneys. A lot of personal injury attorney's are spending hundreds and thousands a day on pay-per-click ads, but with DEO Data Tracker, these costs will drop significantly and we have the case studies to prove it.
Our team at Imagine Agency has always believed innovation drives progress. and each of us constantly strive to stay ahead of the curve with every tactic and strategy we deploy, Ultimately this is going to be a huge benefit to the businesses we work with because they are now able to directly advertise to customers of competitors and track them from their current location all the way into their own business."
Imagine Agency has been doing business for 17 years and it has always aimed to provide businesses with a customized, targeted strategy to increase their customers, clients and revenue. Walker says, "This new GEO Data Tracker takes that philosophy to a whole new level."
Similar geo-fencing apps will become obsolete as they are not targeted and can only be used with mobile devices, but the GEO Data Tracker improved on this by allowing businesses to specifically target customers of competitors and advertise to them on their mobile device, home computer and work computer, while they're inside the walls of the competition or where ever they are in the customer cycle.
Imagine Agency will be launching the GEO Data Tracker on December 26, 2017. To find out more visit http://www.geodatatracker.com
Further information about Imagine Agency, this can be found at http://www.imagine-agency.com/
Release ID: 279598