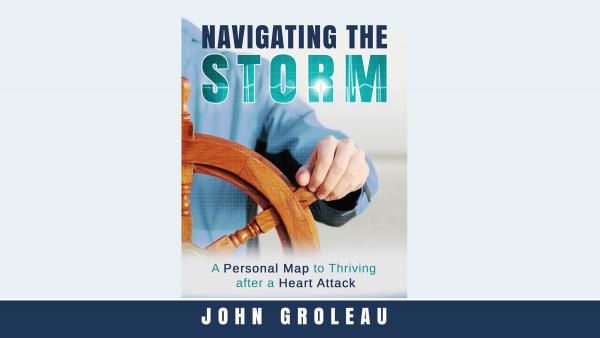 - January 20, 2021 /PressCable/ —
(AURORA, IL, January 19, 2021) – John Groleau recently became a best-selling author after his book entitled "Navigating the Storm: A Personal Map to Thriving after a Heart Attack" made it into the top charts of Amazon.
Readers looking for ways to attain top fitness of the body and mind found practical and applicable insights Groleau has generously imparted through his book.
The public's warm embrace with his masterpiece made Groleau a fulfilled author with a pure intention to help victims of heart attack resume their lives with happy sequels.
Groleau, with a family history of heart disease and having been bombarded with extreme stress, became a victim of heart attack. While the disease has pressed a sudden brake button on his life, Groleau gathered his will and courage to reclaim his optimum physical and mental state.
He regarded the disease as his perfect storm and continued living with lessons learned. He considered his heart attack as the best thing that happened in his life as it led him to make a stern look at its causes and understand how to turn his life around before it is too late.
Groleau's book contains a dozen chapters that help the readers understand their genetics; gain insights on the proper ways to apply exercise and diet; and learn the factors that lead into the fatal disease, among others.
"Navigating the Storm" also took a deep dive into the emotional and spiritual needs of a person to mitigate the risks of a heart attack.
Groleau did not leave readers hanging after finishing the pages as he provided a bonus chapter containing his method towards his recovery. This chapter has effectively guided the readers to take the first steps towards regaining control of their lives, too.
"To achieve a truly happy and healthy sequel to your story, you need to connect body, mind, soul, and spirit. If you want to be whole again, you need a holistic approach," Groleau said.
His book can be purchased through https://www.amazon.com/dp/B08SHZ1XYM.
Groleau, https://www.linkedin.com/in/john-groleau-msfs-ricp%C2%AE-a2524089/, holds a Masters of Science in Financial Services (MSFS) degree and a Masters degree in Theology and Pastoral Care. He is the founder of Lighthouse Financial Group, Inc. and has over thirty years of experience in investment management, retirement planning, and college planning. A specialist in helping parents navigate the college financial process, he is the author of four books including Parents' College Survival Guide: Planning and Paying for College. He also enjoys public speaking, with scores of presentations, as well as appearances on WGN and CBS News.
Born and raised in Maine, he currently resides in the Chicago area with his wife, Layla. Together, they are active in their church and community life. Part outdoorsman, part grill-meister, he enjoys fishing, hunting, and cooking up a storm. As a father of four and grandfather of five, wrangling the newest members of the Groleau clan is perhaps his most enjoyable pastime.
Release ID: 88994132