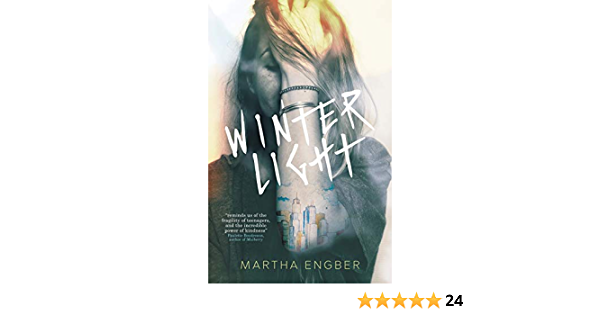 - April 19, 2021 /PressCable/ —
"I had to tear myself away from the book to carry on in my own life, that's how powerful this book is. I just needed to carry on with Mary, everything else was an intrusion. A book that has stayed with me since and I feel that it will stay for a while to come yet."
— Sharon Rimmelzwaan, Sharon Beyond Books
Martha Engber's latest novel, Winter Light, is garnering rave review for its honest, yet hard-hitting portrayal of teen sex, drug abuse, alcoholism and family violence, issues as relevant today as when the story takes place during the Chicago blizzard winter of 1978-79.
Upon opening preorder sales, the gritty young adult book — suitable for anyone age 15+ —immediately received Amazon's "#1 New Release of Teen and Young Adult 21st Century United States Historical Fiction." (Book details available at https://tinyurl.com/2h33mdd9.)
Winter Light is the story of 15-year-old Mary Donahue of suburban Chicago, a kid on the cusp of failure at the end of a hard luck, hard rock era sunk in the cynical aftermath of the Vietnam War.
The language of Winter Light is simple and stark as Mary's internal landscape. Though a smart, beautiful kid, she's a motherless girl raised by an uneducated, alcoholic father within an extended family of alcoholics and addicts. Aware she's sinking and desperate to save herself, she reaches out to an unlikely source, Kathleen, a nice, normal kid from English class.
Though initially bleak, this story of redemption combines literary with historical fiction and is for anyone who loves classics such as To Kill a Mockingbird and Catcher in the Rye where youths struggle at the abyss of a brutal adult world.
Grant Leishman of Readers' Favorite said, "Winter Light is one of the most powerful narratives I've read in a long time."
When asked about the inspiration for this book, Ms. Engber said, "I set this story in the same time and place of my own high school years. I didn't intend to write a coming-of-age story. Instead, I wanted to convey the sadness and desperation I felt during high school when I'd see other kids failing. Typically they were smart and had sharp wits and a streak of independence and guts I admired. Yet if they were smart, why were they failing? I wished I could do as Holden Caulfield in Catcher in the Rye and spread my arms wide and catch them before they ran blindly off the cliff."
Ms. Engber is also the author of The Wind Thief, a novel, and Growing Great Characters From the Ground Up, a book for writers. A freelance editor and workshop facilitator, she had a play produced in Hollywood and is the author of fiction, poetry and essays published in Watchword, the Berkeley Fiction Review, Iconoclast and other literary magazines.
Ms. Engber resides in Santa Clara, CA, with her husband, bike and surfboard. Those interested in interviews can contact her through her website, http://marthaengber.com/.
Winter Light is available at all online bookstores (amazon.com: https://tinyurl.com/2h33mdd9 ) and through the publisher, Vine Leaves Press https://www.vineleavespress.com/winter-light-by-martha-engber.html) (ISBN: 978-1-925965-44-5).
Release ID: 89005895