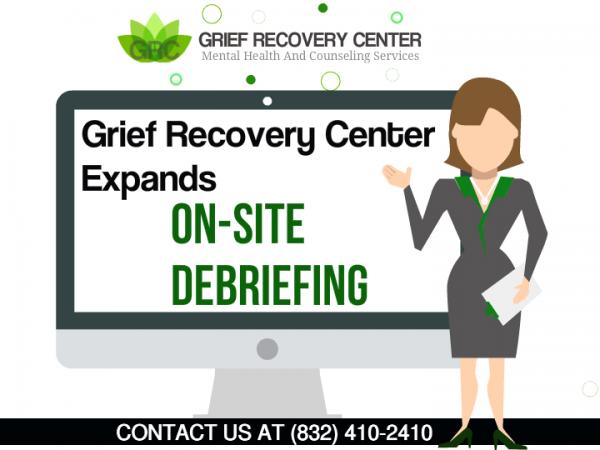 - November 9, 2019 /PressCable/ —
Employers and employees are often not suited to handle the disorder and confusion brought on by horrible events that take place on the job, such as workplace violence. Survivors of these events often struggle to regain normalcy in the workplace and even at home. Many who have been traumatized by such life-changing events may need professional attention and care. Grief Recovery Center has been growing its On-Site Debriefing services to adequately handle such circumstances.
Critical incident stress debriefing from a traumatic event is designed to assist those dealing with the physical and/or psychological symptoms caused by their unfortunate workplace experience. Asma Rehman, Lead Licensed Professional Counselor of Grief Recovery Center says "Debriefing allows those involved in a workplace incident to process the event and reflect on its impact. Our therapists come on-site to the business and allow employees access to us to speak about whatever it is they're feeling about what transpired."
There are numerous benefits to having On-Site Debriefing for employees. It immediately shows there is care about the well-being of the employees, creating a feeling of a supportive environment. Also, creates more open discussions of concerns with management with the help and guidance of a licensed therapist. Human Resource departments all over the world have been adopting these services to ensure workplace wellness and productivity. When an employee is hampered by traumatic events, they cannot perform at peak condition. Other benefits include the reduction of sick time, lost wages, and delays in delivering work on time.
Grief Recovery Center's therapists will work with Texas employers to ensure the needs of their employees are being met and paid attention to. Individual meetings or group meetings can be done on location. If an individual is looking for On-Site Debriefing, contact GRC for more information and how to get started today.
Release ID: 88933283