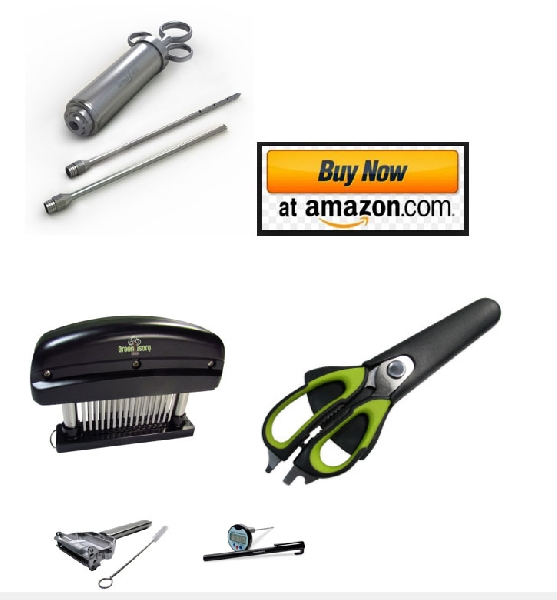 - June 8, 2015 /PressCable/ —
Greentisory's line of products is extensive, and it includes many indispensable items for the chef in every dad. And since Greentisory insists on carrying only products manufactured with the highest quality materials as well as environmentally conscious packaging, customers can feel confident that they're buying an earth-friendly tool with unsurpassed design elements.
Coupon codes for Fathers Day discounts can be found on this webpage Greentisory.com
A few of the more popular Greentisory kitchen utensils and barbeque accessories available for the 50 percent discount over Father's Day includes: •Multi-function take apart kitchen scissors with magnetic sheath •Instant read digital meat thermometers •Magnetic digital countdown kitchen timers •Silicone cooking spoons •48 stainless steel blade meat tenderizer •Stainless steel meat marinade injector with 2 Ounce barrel •Set of 5 stainless steel cookie cutters with 6 inch Star, Mickey Mouse, Mustache, Butterfly, and Crown figures.
John Keisling, founder of Greentisory.com, had a few interesting things to say when he announced the Father's Day blowout sale earlier today. "As the Greentisory brand grows, it's important to get these products in the hands of as many customers as possible, and the company is willing to sell them at cost if need be." He went on to say, "These barbecue accessories and kitchen utensils have been getting great reviews from the customers on Amazon."
The online shopping giant is where people can purchase all of Greentisory's products as well as utilize the forthcoming Father's Day percent off coupon codes. Mr. Keisling expounded on the virtues of selling through Amazon saying, "It's Amazon, the most trusted online store in the world, and we're proud to offer these line of products through such a well-known and well-regarded Website."
He concluded the sale announcement by promising several new additions to the already extensive line of Greentisory tools. "The company is sourcing many other products moving forward including a 3 piece BBQ grill brush set, remote meat thermometers, and Hori Hori Garden Knives that come with a handy leather sheath."
CEO John Keisling, and the team members at Greentisory.com, want to put as many of their eco-friendly and utilitarian tools into the hands of both amateur and professional chefs around the world. With the upcoming Father's Day coupon promotion blowout sale as well as the addition of many new tools and utensils to their already impressive product line, it looks like they are well on their way to accomplishing that goal.
Once again, coupons can be found on this webpage Greentisory.com
Release ID: 83811