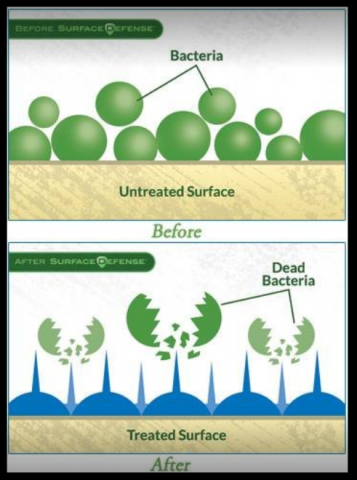 - January 25, 2019 /NewsNetwork/ —
Greater Atlanta contamination removal service company BioSweep & 180 Solutions of Greater Atlanta announced its black mold and odor removal services. The company uses a specialized process to remove airborne and surface contamination caused by a variety of pathogens.
More information about BioSweep & 180 Solutions of Greater Atlanta is available at https://biosweepga.com
A report in The Atlanta Journal-Constitution highlights the struggle that homeowners and renters face when dealing with mold infestations caused by long-term moisture, plumbing leaks, and rain damage. Toxic black mold or Stachybotrys chartarum is a microfungus that can be inhaled, ingested, or contracted by touch. Reports for the National Institute of Environmental Health Sciences have indicated that this mold has been shown to cause respiratory problems, skin infections, damage to internal organs, and other harmful effects.
BioSweep & 180 Solutions of Greater Atlanta offer an effective and affordable solution to black mold and other mold infestations using a 5-stage PHOCATOX process. The company's building decontamination and mold removal team employ this technology that works by the action of hydroxyl radical plasma gas to create vaporized hydrogen peroxide and purified ozone for the treatment of contaminated areas.
Environmental safety and rapid remediation are the unique benefits of the Atlanta mold removal company's process. The process involves photocatalytic oxidation, HEPA filtration, the production of hydroxyl radicals, singlet oxygen and oxyradical plasma production followed by germicidal UV-C radiation. All these processes are produced using a single, self-contained unit.
PHOCATOX is effective against highly infectious and common molds, MRSA, colitis-causing clostridioides difficile, and viruses. BioSweep & 180 Solutions of Greater Atlanta also provides the complete removal of odors caused by bacteria, tobacco, urine, pet secretions, mildew, and stale food.
According to a spokesperson for the Canton, GA advanced odor removal firm, "Our advanced mold removal technology is capable of delivering complete decontamination and odor removal from homes and commercial facilities. Our team of trained and skilled technicians ensures the safe and effective use of our specialized process to effect quick remediation."
BioSweep & 180 Solutions of Greater Atlanta is a specialized mold, mildew, odor, and pathogen removal company offering customized air and surface decontamination services in the Greater Atlanta region. The company is certified by the Institute of Inspection Cleaning and Restoration Certification and holds an A+ rating with the Better Business Bureau. More information is available over the phone at 678-274-6509 and at the URL above.
Release ID: 476043