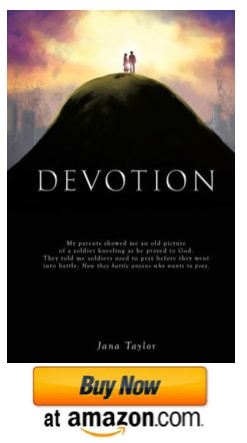 - July 30, 2015 /PressCable/ —
Customers looking for the latest Great Christian book will soon be able to purchase Devotion by Jana Hays Taylor. Today Jana H. Taylor, Author at janahtaylor.net releases details of Devotion's development.
Devotion is designed to appeal specifically to readers of Christian fiction and includes:
Literature written by a top Christian Author – This fiction Christian book series was written about a future United States where it has crumbled underneath war, poverty and battles for power. It is now divided into five regions, each vying for power and all governments banning the Scriptures and arresting anyone who chooses to follow Christ. Those who have chosen to follow are forced to hide, deny Christ, or die. This is great news for the consumer as it will strengthen the Christian reader's faith in the face of persecution .
You get to meet Kendrick The Rebel – Get immersed into the book and learn if he continue to fight against the government and save the one he loves. Customers who buy Devotion should enjoy this feature because it will provide great peace of mind as the reader turns page by page enjoying the investment of this great Christian book.
If customer are new to christian fiction – Jana Hays Taylor made sure to make this part of the great Christian book's development as this will excite readers and keep them coming by for more. Customers will likely appreciate this because because this is the first Christian book in this series.
Jana H. Taylor, when asked about Devotion said:
"I serve many roles, author being one, but my first priority is serving Christ. Through being a wife, a mother, a teacher, and an author, my goal is to glorify God in whatever role He has given me."
This is Jana Hays Taylor's first release of a new Christian fiction and Jana is particularly excited about this release because it is really going to open the eyes of readers in the Christian fiction book genre.
Those interested in learning more about the christian fiction author can do so on the business website at http://www.janahtaylor.net
Those interested in purchasing can go directly to the product listing, here: http://amzn.to/1KzPglq
Release ID: 87991