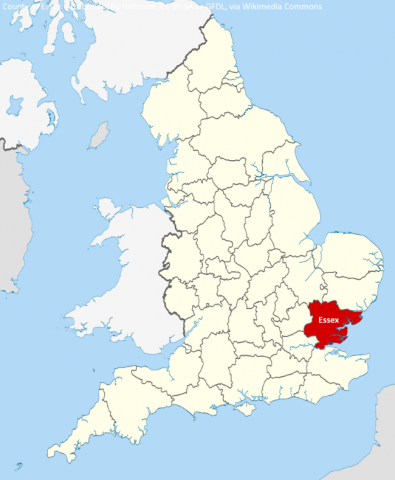 - October 30, 2017 /PressCable/ —
A surprising large new anaerobic digestion feedstock (biogas plant) grassland biomass food source has been found. In total it is as large in area, as the County of Essex, and it has been found in the grass verges of the UK.
A new study for Lincolnshire County Council has not only made this exciting discovery, but found that this grass can be profitably harvested with many benefits. It is literally just feet away from the car doors of every rural traveller. It is the roadside grass in verges.
This huge amount of grass could be providing biomass, which is simply "organic food", for the anaerobic digestion plants throughout the country which produce the gas known as "biogas".
It is not being collected at all at the moment. If it was collected, it could be sent to the increasing number of UK anaerobic digestion plants, where it would produce renewable energy (as biogas), and a much needed natural fertiliser for farm crops, according to environmental consultant IPPTS Associates.
If verge grass collection was implemented nationwide, this new resource would also help reduce the UK's carbon emissions, which in turn would reduce the threat of irreversible global climate change.
An additional important spin-off of from verge grass collection comes from its ability to assist in the preservation of plant diversity. It is well-established among horticultural experts that the collection of grass mowings reduces soil-fertility over a period of time. Reduced soil-fertility enables increasingly rare plant species, which are normally well adapted to low fertility soil conditions, to hold-on and thrive against competition for light, water, and air from rank grasses, shrubs and bushes. These rank (fast growing) species would otherwise crowd them out, and out-compete them. This applies both due to frequent mowing without grass collection, and the infrequent cutting-back of vegetation purely to maintain vehicle sight-lines.
Just like every other country which has signed up to reduce carbon emissions as part of the Paris Climate Accord, the UK has to find ways to achieved its emission targets. The consultant says that using presently unused verge cuttings, is one of the ways carbon emissions can be lowered using existing proven technology, at little or no cost to taxpayers. Furthermore, IPPTS confirmed that there is no technical reason why this cannot be done not just in Lincolnshire, but throughout the UK.
IPPTS Associates has produced a short video which explains the Anaerobic Digestion of Biomass from Verge Grassland which can be viewed at https://www.youtube.com/watch?v=VVYXhli5Hnc
The initial report on the Scoping Study of grass verge cuttings for use as a biomass to feed anaerobic digestion plants, was prepared by Peakhill Associates Ltd, titled the "Utilization of Anaerobic Digestion to sustain the harvesting of road verge biomass", in 2015-16. It was carried out on behalf of Lincolnshire County Council (LCC) and concluded that collection of verge grass and transport to an AD facility, would provide a positive return. "Return" was looked at in terms of energy harvested in relation to energy expended. In theory the Low Input High Diversity (LIHD) biomass resource available from Lincolnshire verges could annually provide sufficient electricity for 4,500 homes or gas for 1,100 homes. By providing this biogas energy, carbon emissions are saved. That is because without the biogas, this energy would have been obtained from high carbon-dioxide-emitting fossil-fuel sources, such as natural gas, coal, and oil supplies.
The quality of the study was recognised at the 2017 ADBA World Biogas EXPO, the UK's most prestigious event in the AD industry. During the event Peakhill Associates was short-listed in the International Research Category, alongside entries from Germany and Spain.
The work by Peakhill Associates Ltd will move into its next stage in April 2018. At that time a pilot study of verge-grass collection will start. The work will comprise a pilot study to test the calculations of the original report.
During the pilot study period, rural road verges will be cut twice per year, and the grass will be collected in a specially adapted mowing machine. It will then be taken to one of 3 anaerobic digestion plants, where it will be digested to produce biogas and fertiliser. The study will be run on a commercial basis and data will be collected on the grass cuttings collected and the biogas produced.
Peakhill Associates Ltd say that Lincolnshire, as a typical rural county, possesses approximately 8,750 km (5,500 miles) of highway of which 6,173 km are largely bounded by grass verges. This amounts to a substantial biomass resource.
Environmental consultant Steve Last (Principal at IPPTS Associates) said;
"What is particularly impressive about this is the many benefits. Not least of these is that removing the cuttings from the verges will help to protect wildflower diversity. In so many parts of the country, such as Lincolnshire where agriculture is highly intensive, very few other places now exist for grassland wildflowers to survive. Government spending cut-backs are also resulting in councils being forced to reduce verge cutting even further. This must be accelerating the loss of these lovely plants, making collecting grass verge cuttings ever more important".
For more information about grass verge collection and anaerobic digestion biomass visit https://anaerobic-digestion.com/adbiomass
Release ID: 255520