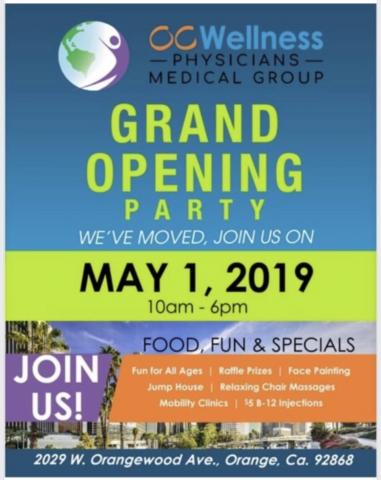 - April 26, 2019 /PressCable/ —
Orange, California – OC Wellness Physicians Medical Group's new Orange office (2029 W. Orangewood Ave.) opens its doors to patients on Wednesday, May 1, 2019. Located across Southern California, OC Wellness Medical Group offers regenerative physical medicine services at multiple locations to better serve their patients. During the grand opening all of the medical team will be there to answer any questions. The grand opening will be from 10am to 6pm. There website is located at http://ocwellnessphysicians.com. To contact them dial 1-866-303-9355.
The team of medical doctors and health care professionals have both personally and professionally seen the benefits that regenerative therapy has to offer. Each doctor is uniquely qualified to help you experience freedom from stress, discomfort, pain and debilitating symptoms that prevent you from living a happy & healthy life. OC Wellness Physicians Medical Group is committed to their patients well being and providing the best in physical, regenerative, and alternative medicine.
OC Wellness knows that people do not trust their health and well being to just anyone. Orange County Wellness Physicians Medical Group is a multi-specialty healthcare group providing a comprehensive conventional and alternative treatment approach to musculoskeletal and chronic lifestyle related conditions throughout its multiple locations. Founded in 2008, OC Wellness Physicians utilizes a patient-centered set of "best practices" through the unbiased collaboration of a multi-disciplinary team of medical doctors, chiropractors, physical therapists, acupuncturists, nutritionists, massage therapists, and psychological wellness counselors.
This integrative approach allows patients to focus on healing knowing they have a team of experts working together for the benefit of the patient. The OC Wellness approach focuses on using the most conservative, non-invasive approach to prevent unnecessary surgeries, pharmaceuticals, and invasive procedures. This effectiveness and efficiency has created collaborative partnerships with employers, sports teams, corporations, public health organizations, and health systems.
Their mission is to change the face of healthcare as they know it today and lead the industry into a true wellness revolution
The team says, "If you're going to devote time and money into improving your health and well-being, you should be completely satisfied every step of the the way."
Release ID: 506845