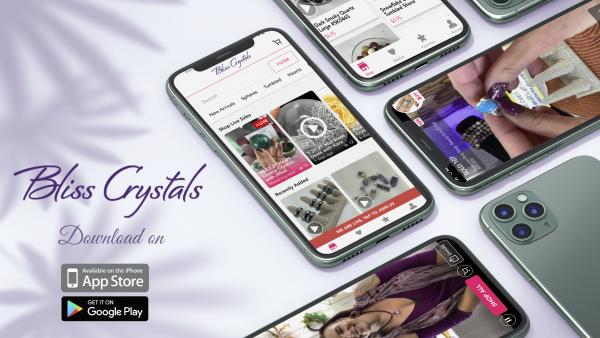 - November 25, 2021 /PressCable/ —
The recent launch allows users of the app to purchase the crystals showcased during the live stream by leaving a comment to claim the item, through the app, or directly through the company website.
More details can be found at https://blisscrystals.com/pages/bliss-crystals-app?utm_source=ampifire&utm_medium=press&utm_campaign=bliss_app
Bliss Crystals' app launch offers customers the opportunity to re-watch shows that have ended, and users can move through the video to the part they're interested in learning about, their favorite features, or to see again the items they're interested in buying.
Founded by mother-daughter team Jan Mathews and Jillian Lange, Bliss Crystals began life as a popular Etsy store but quickly outgrew the platform. Set apart from other crystal stores, the pair are truly passionate about crystals and have worked hard to curate a collection of both popular and more rare, esoteric stones sought for their healing properties.
All items from the store are hand-selected for quality, taking into account color, polish, shape, and energetic vibrations. With a focus on not only the sale of crystals, gemstone jewelry, and conscious living products, the company also offers a range of valuable resources on the uses of crystals.
Since Jillian is a lead instructor on yoga, medication, and more, Bliss Crystals began filming Facebook Live shows once a week, but soon expanded to 5 weekly shows teaching the arts of Crystal Healing, Feng Shui, Meditation, Grids, and Chakras. Sharing their love of crystals and showcasing the treasures available from their store, the live shows allow viewers to buy every product shown in the live stream. The app also allows users to quickly search through items featured in previous shows, with payment plans available on many items.
The company's range includes collections such as the 'Essential 11 Beginner's Set', curated healing sets put together for the most common healing intentions, as well as popular laser-etched Selenite and Astrology Crystals for each sign of the Zodiac. Hundreds of new products are added to the site each week and are easy to browse and purchase through the Bliss Crystals app, with fast and secure shipping. Customers can also earn credits for referrals and purchases, with access to a range of coupons, discounts, and special offers only available via the app.
Interested parties can find out more by visiting https://blisscrystals.com/pages/bliss-crystals-app?utm_source=ampifire&utm_medium=press&utm_campaign=bliss_app
Release ID: 89054463