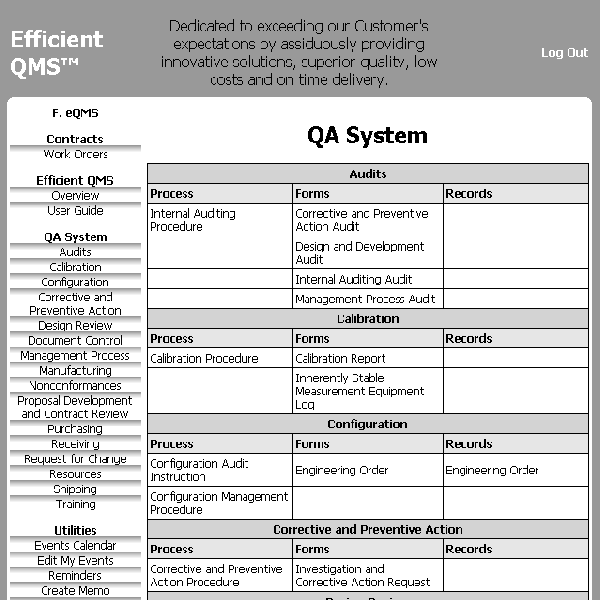 - September 27, 2014 /MarketersMEDIA/ —
Colorado Springs, USA – September 27th, 2014 /PressCable/ —

Someone is going to get "volunteered" to facilitate the Company's quality control plan – but where to start? Of course, the keep-it-simple approach is always the best approach.
The starting point for any link:quality control plan improvement project is to set a goal to achieve compliance with Customer flowdown requirements or Government mandate. Under these circumstances, the sad fact is that only a few businesses will ever use the quality improvement initiative as anything more than a marketing tool. Rarely does a business volunteer to change or upgrade its core management system. Under protest, the orchestra of resources in a business play solo rather than play together in harmony! The Facilitator for the quality control plan cannot overcome the inherent resistance to change when the reason is due to force rather than a management or ownership decision. The rule is, change the perception from "force" to a perception of "opportunity to qualify" for more sales.
A business that is forced to change can be positively influenced for the good of the quality control plan by:
a) Believing that sales will actually increase after all the effort, and/or
b) Adopting Deming's 14 Principles, which include:
1) Create constancy of purpose toward improvement of product and service with the aim of becoming competitive, staying in business and providing jobs.
2) Adopt a philosophy that does not tolerate lack of quality, defects, antiquated training methods and inadequate or ineffective supervision.
3) Cease dependence on inspection to achieve quality.
4) End the practice of awarding business on the basis of price tag – minimize total cost – move toward a single Supplier for any one item based on a long-term relationship of loyalty and trust.
5) Continuously improve the system of production and service to improve quality and productivity and decrease costs.
6) Institute training on the job.
7) Institute leadership that aims to help people and machines do a better job.
8) Drive out fear to enable effective work for the Company.
9) Break down barriers between departments.
10) Eliminate slogans, exhortations and targets that ask the workforce for zero defects and new levels of productivity. (The bulk of the causes for low quality and low productivity belong to the system, which lies beyond the control of the workforce.)
11) Eliminate quotas in production areas – substitute leadership.
12) Remove barriers that rob hourly workers, engineers and people in management of their right to pride in workmanship – abolish annual merit ratings and management by objectives – change the responsibility of supervisors from sheer numbers to quality.
13) Institute a vigorous program of education and self-improvement.
14) Put everyone in the Company to work to accomplish the transformation.
Tampering with the business culture creates variation and changing the approach to product or service quality frequently causes an organization to lose momentum and fail. Resistance to change will diminish when management demonstrates their commitment to the new quality control plan. Adopting and applying Deming's 14 Principles is effective in creating a positive atmosphere for the new quality control plan, which must be implemented to achieve the primary goal: Qualify the business for more sales!
After addressing change management for the improvement project, where does the Facilitator actually start the new quality control plan?
Most Customer flowdowns and Government mandates require ISO 9001, which is the foundation for many industry standard quality control plans. ISO 9001 addresses common business processes, such as Contract Review to integrate Customer requirements into the production process and Purchasing to control order requirements and Supplier approval.
Where to start in the implementation phase of the improvement project is a decision, but records for the entire quality management system are required to enable a Customer or Registrar to determine compliance with Company policies that are established by ISO 9001. Most Company's focus attention on an area in the business operation that needs some tender loving care or will initially return the most on investment of time and attention.
If the Facilitator has no idea where to start the quality control plan, a good place to begin is QMS Orientation Training using PowerPoint slides that are in the link:ISO 9001 kit. The orientation will introduce employees to the history of ISO 9001 and give them some perspective about how requirements from the standard will affect their daily routines.
The Facilitator needs to develop a link:schedule for QMS compliance and coordinate change activities that include:
1) Management Meeting to Authorize Development of Quality Policy, Manual and QMS Procedures, Assign Implementation Team and Quality Representative and Address Agenda Items in Management Meeting Report
2) Internal Auditor Training
3) Quality System Audit for Gap Analysis
4) Implementation Team Meeting to Prioritize Work
5) Define Interactions of Work Processes
6) Update Work Instructions and Product or Service Related Forms
7) Training for QMS Procedures and Updated Work Instructions and Forms
8) Quality System Audit for Compliance Verification
9) Implementation Team Meeting to Review Audit Results and Prioritize Work
10) Correct Deficiencies and Update Applicable Documents to Close Audit Observations and Findings
11) Summarize Configuration Status of QMS Procedures, Work Instructions and Forms
12) Formal Management Meeting to Report Compliance with New Quality Control Plan
During the above QMS compliance activities, production routines will retroactively integrate new work instructions and forms and update active records. If no restrictions apply for editing archived records, consider updating several recent months of records to enable internal Auditors to verify compliance with new quality control plan requirements. If the business is just starting, the best that can be done to convince a new Customer to issue a contract is to show-and-tell the Company's QMS manual and procedures and production work instructions and forms that are compliant with their Supplier flowdown requirements.
About JnF Specialties: JnF Specialties was founded in 1998 and serves the Quality Control Plan industry. Since 2001, they have provided resources for quality control plans and essential information for managers, owners, sole proprietors, technicians, engineers and consultants with simple solutions to meet business goals and achieve compliance with Customer requirements and quality control plan standards.
Contact Info:
Name: Jennifer and Frank
Email: contact@quality-control-plan.com
Organization: JnF Specialties
Website: www.quality-control-plan.com
Phone: 719-649-4242
Address: Colorado Springs, CO
Release ID: 64434