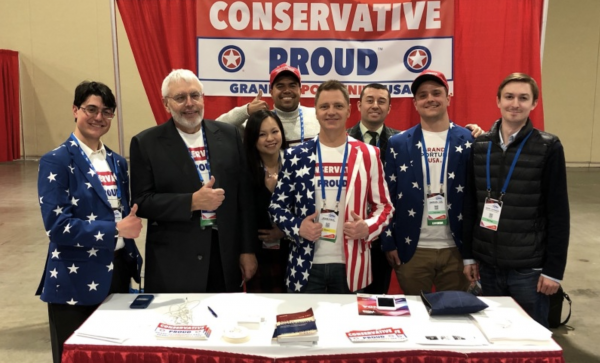 - July 25, 2019 /NewsNetwork/ —
With election season around the corner, get a sneak peek into the new conservative flavor for 2020.
On August 8th a fundraiser for Boston-based, nonprofit Grand Opportunity USA (GOUSA) is giving a sneak peek into a groundswell of support for conservatism.
GOUSA has assembled a speaker list including major conservative activists, social media influencers, and local and national candidates for its #ConservativeProud New England States Conference. The day begins with a morning Pro-Constitution Rally at Lexington Depot Square, co-sponsored by the Republican Liberty Caucus of Massachusetts, followed by an all day and evening event in Billerica, MA.
Speakers include Brandon Straka, founder of the #Walkaway movement, and GOP challenger to Maxine Waters, Joe Collins. With them will be voting registration activist, Scott Presler, Aidan Kearney of Turtleboy Sports and Angela Stanton King of the American King Foundation. Billboard Top 40 Artist Ricky Rebel plans to make an appearance as well. Founder of High Schoolers for Freedom Boris Kizenko, and Carla Spalding running for office in the hotbed of voter fraud, Broward County Florida, have also confirmed their speaking roles. Capping off the evening, GOUSA's founder, John Paul, will speak on the organization's mission. The event will also feature a panel discussion uniting GOP leaders from all six New England states.
"We are beyond excited to bring these names to the public here in Massachusetts," said Ryan Hawkes, GOUSA's Director of Fundraising. "Our organization is personally familiar with many of the speakers presenting. As such we guarantee an entertaining and informative day and evening of events."
Topics will include supporting and defending our Constitutional liberties, social media censorship, new media engagement tactics, voter fraud and voter registration strategies. The round table with the New England GOP leaders will focus on strategies to flip the New England states red.
John Paul will be discussing strategies to engage a much younger and more diverse electorate. "The image of conservatism has been maligned by the media and the Left to be 'old, out of touch white men', as well as racist, sexist, bigoted and homophobic, a completely false narrative we need to break," says Paul. He and his team will be presenting new messaging and branding strategies, such as renaming the GOP from the Grand Old Party to the Grand Opportunity Party. GOUSA has a focus on "Opportunity for ALL" in America, GOUSA's new #ConservativeProud month and movement will also be introduced.
Before the event at 10 am, together with the Republican Liberty Caucus of Massachusetts, GOUSA will be hosting a Pro-US Constitution Rally to be held at Lexington Depot Square, next to Lexington Battle Green in Massachusetts. More commonly it's where the "shot that was heard 'round the world" rang out starting the Revolutionary War. "Lexington was chosen because of its historic importance to the birth of freedom in America, and GOUSA's goal to bring liberty back to where it started", said Paul. "Any topics supporting our Constitutional liberties will be covered by our speakers."
The GOUSA #ConservativeProud New England States Conference begins immediately after the rally under a big party tent a private venue in Billerica, Massachusetts. The event will include a VIP brunch at noon with speakers, followed by activism training presentations from 1-5 pm. A BBQ from 5-6 pm will precede the main evening event from 6-10 p.m. Live entertainment by Ricky Rebel, an open bar and networking with guests will conclude the evening.
Tickets to the event can be found at Eventbrite at: http://bit.ly/GOUSA_NewEnglandTickets as well as social media @GrandOUSA. Packages include general admission to various parts of this all day and evening event. The morning rally and afternoon activism training is free; if you can't go to the event, you can still donate on the GOUSA website.
For more detail about their mission, visit GOUSA's website GrandOpportunityUSA.org.
Release ID: 88900800