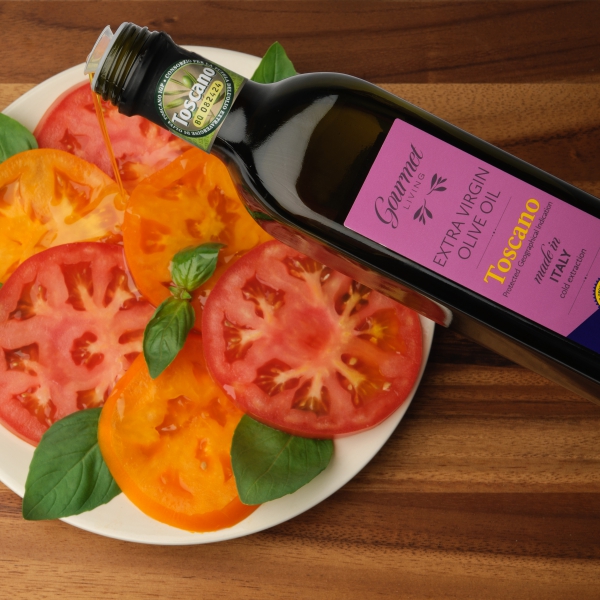 - July 28, 2016 /PressCable/ —
A new Tuscan extra virgin olive oil blend has been launched. Harvested on the rolling hills of south Florence, it is harvested and pressed from the three main olive varieties of Firenze: Frantoio, Moraiolo, and Leccino. This olive oil are especially selected for their superior quality and aroma, and the company selling them, Gourmet Living, has announced a summer promotional discount.
More information can be found on the Gourmet Living extra virgin olive oil Amazon page listing at: http://amazon.com/Extra-Virgin-Olive-Oil-Italy/dp/B0176MOT74.
The listing page on Amazon explains that customers buying the authentic, luxurious and high quality olive oil will receive a product that has been estate bottled in Italy and verified by Italian authorities. Extra virgin olive oil is at the heart of the Mediterranean diet, and is one of the reasons why their diet is considered to be one of the healthiest in the world.
Gourmet Living extra virgin olive oil has a wide range of uses, and many of them are listed on the Amazon page, including application as a skin moisturizer and hair conditioner. The site underscores that it is best used in food, however, says that it's here where the high quality ingredients excel.
The gourmet olive oil is fully organic, with low free acidity of less than 0.8% as required by the International Olive Oil Council guidelines. Customers can impress their diners with a huge selection of olive oil inspired recipes, including fresh salads and vegetables using Gourmet Living's extra virgin olive oil.
The Gourmet Living site explains that the company's primary goal is to enrich the lives of its customers through a disciplined and educational approach to discovering and using great food products from around the world.
Started by husband and wife team Richard and Sheila May, they bring nutritionist and advertising experience to the fore, and over the last 20 years have experienced the rich and diverse array of foods available around the world.
The company said: "Many so-called healthy or organic foods are hardly healthy or truly organic. As such, my husband and I decided to seek out great natural products that we believe are essential to any home cook."
Release ID: 125076