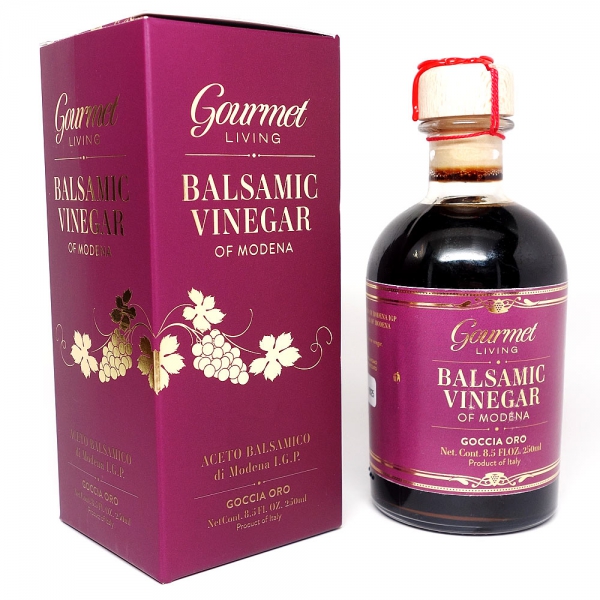 - July 27, 2016 /PressCable/ —
Gourmet Living, the high quality specialty food company run by Sheila and Richard May, has announced the launch of a luxury balsamic vinegar product on Amazon. The Gourmet Living Balsamic Vinegar of Modena is barrel-aged, certified IGP and estate bottled in Italy, ensuring it is an authentic balsamic vinegar from Modena, Italy.
More information can be found on the gourmet balsamic vinegar page listing at: http://amazon.com/Gourmet-Living-Balsamic-Vinegar-Modena/dp/B013RWW730.
The site explains that the barrel aged balsamic vinegar of Modena allows American customers the opportunity to cook like an Italian chef, using a few drops of IGP balsamic vinegar to transform their home cooking into a work of art.
An essential cooking condiment for home chefs, it allows customers to benefit from all the nutritional elements of luxury balsamic vinegar and create inspired recipes with just a flick of the wrist. Because it's such a high quality product, all it takes is a few drops and dishes can be brought to life with the flavor of Italy.
Balsamic vinegar occurs from the fermentation of cooked musk and is aged in a series of wooden barrels, called a battery. After pressing the grapes and removing the skin, seeds and stalks, the mixture is cooked in an open container to achieve the concentrated finished product through evaporation.
Sourced and distributed by Sheila and Richard May in an effort to bring food products of exceptional quality to the attention of the American consumer, Gourmet Living balsamic vinegar comes complete with a comprehensive reference resource on the history of the product, and some recipes on how best to use the ingredient to show off the customer's culinary talent.
The Gourmet Living site explains that, whether the customer is planning to simply add a few drops of balsamic vinegar Parmesan cheese or fresh strawberries, the unique characteristics of the product can transform even a mundane dish.
A special discount code has been introduced for customers using the code 7HD7WTXB at checkout. For more information on how the product can be used, and recipes and video guides on how to come up with salads, bruschetta and other options using balsamic vinegar, interested parties can visit: http://gourmetliving.org.
Release ID: 125074