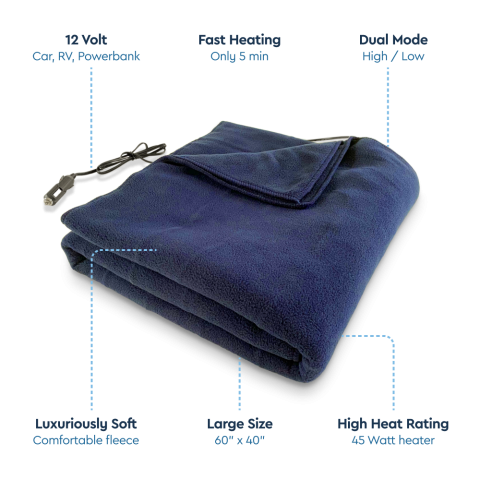 - February 22, 2022 /PressCable/ —
Cincinnati, OH (Feb. 22, 2022) – GoSun, a clean energy solution's company, introduces a 12-volt heated travel blanket to its diverse range of products. With its dedicated team of engineers and designers, the company is set to make its name in the clean energy solutions market with innovative products such as the electric blanket.
The electric blankets market is slowly but steadily growing all around the world. In 2020, the electric blankets market in the United States was worth $211.2 million. In China, the market size is estimated to reach $245.8 million by the year 2027. Giving the electric blanket's market a 9% Compound Annual Growth Rate (CAGR) between 2020 to 2027 in China, the second-biggest global economy.
Other notable global markets for electric blankets include Canada, which is set to grow at a rate of 5.3%, Japan, where the estimated growth rate is 3.2%, and Germany, with a CAGR of 3.7% from 2020 to 2027.
GoSun's electric blanket has one of the highest heat wattage settings and can easily used. Its heat settings are adjustable, and users can alter them according to their preference by simply adjusting the attached controller. This blanket can be used in any place, whether an RV, a truck, a boat, or van as long as it has a 12 volt power outlet. Since the electric heater requires only 12 volts to operate, customers can use it with their car battery as well. In addition, GoSun's electric heater is robust up to 45 watts.
The electric blanket's optional portable batteries allow the blanket to run for over 6 hours so users can stay warm even during power outages. Furthermore, customers can recharge GoSun's electric blanket's batteries with the company's wide range of solar energy solution power banks. These include GoSun Power Bank 266, GoSun Power Bank 550, and GoSun Power Bank 144.
GoSun's heated blanket boasts numerous benefits and advantages. Customers can use the electric blanket on the go to provide much-needed comfort and heat during low temperatures. It can also be used at home as a blanket or a bed warmer during nighttime. In addition, the electric blanket has numerous health benefits, such as easing the pain of arthritis and providing warmth to patients who suffer from poor circulation.
This portable outside heated blanket is also great for camping, by the campfire, or for watching a game in cold weather.
GoSun's electric heated blanket also allows users to save on their electricity and heating costs. Not only can customers feel warm during harsh winters, but they can now do so while simultaneously cutting down significantly on electricity costs. Like most GoSun's products, the electric blanket can easily be powered by clean energy solutions. Hence allowing users to help protect the environment.
For more information on being a part of GoSun's growth, visit ​​https://www.startengine.com/gosun and to purchase the GoSun blanket visit www.gosun.co
Release ID: 89064802