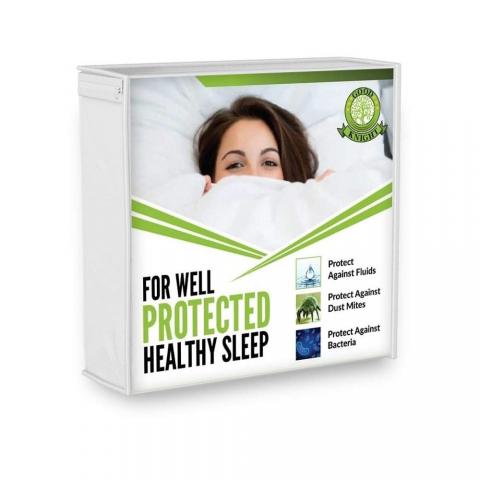 - October 19, 2019 /PressCable/ —
Mattresses are not cheap yet they are easily stained or damaged. Not only is 6-8 hours spent sleeping on the mattress, but also the hours spent during movie nights or lazy mornings in bed must be remembered. The majority of time spent at home is in the bed, therefore the mattress should be better taken care of and protected.
Get one at https://www.amazon.com/Waterproof-Mattress-Protector-Hypoallergenic-Twin/dp/B07VHS281D
Most people choose not to have a waterproof mattress protector because of the noises it can make when shuffling around the bed or the discomfort of having an uncomfortable layer underneath the bed covers. However, GoodKnight's mattress protector is noiseless and made of a terry cloth fabric that actually provides extra comfort.
It is almost impossible to get stains out of a mattress without the residual cleaning substance embedded in the mattress forever. Since a mattress does not fit in the wash, it is important to keep the mattress clean and prevent damage. When the mattress is covered with GoodKnight's encasement, there will no longer be a need to worry about damaging that expensive mattress from a spill or an accident from a child.
To buy, click https://www.amazon.com/Waterproof-Mattress-Protector-Hypoallergenic-King/dp/B07VHSMN2D
This mattress protector doubles as also an allergen protector. Dust mites and other bacteria and organisms hide in mattresses and multiply. GoodKnight's mattress protector will stop bacteria and other allergens from living in the mattress. This feature is proven by decrease in sneezing and feeling stuffy when in bed. The mattress protector also prevents pet hair or dander from entering into the mattress, adding to the already existing allergens.
GoodKnight's mattress protector is created with a fabric technology that repels heat. The heat is circulated throughout the fabric which creates a cooling sensation when lying on. This is great for restless sleepers who feel hot or sweaty throughout the night.
To purchase one, click https://www.amazon.com/Waterproof-Mattress-Protector-Hypoallergenic-Queen/dp/B07VBGSMPF
Release ID: 88929136