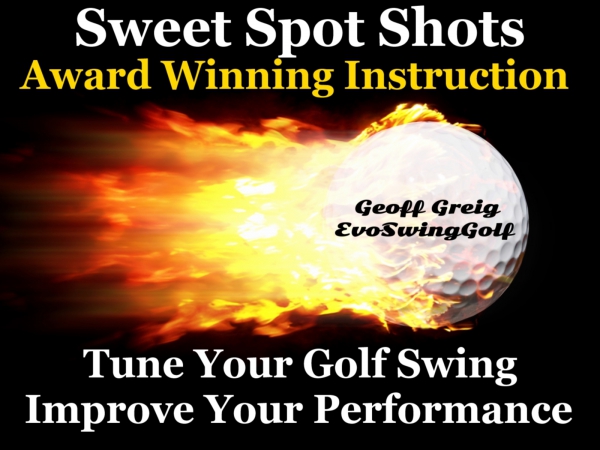 - November 29, 2016 /PressCable/ —
Geoff Greig, PGA Award Winning Instructor, Amazon Best Selling Author and Founder of EvoSwingGolf, is launching a new 30 lesson golf video instruction series this holiday season. The series is designed to inspire an evolution in how the game of golf is taught… and more importantly to help golfers take their best shots to the golf course.
Despite dramatic improvements in the quality of golf clubs, golf balls and golf course maintenance in the past 20 years… the average score for golfers has not decreased one stroke (National Golf Foundation Survey 2016). The average score for golfers is 100 and only 20% of golfers ever shoot less than 90 (National Golf Foundation Survey 2016).
Greig believes excessively complicated and poorly communicated instruction is a large contributor to the lack of improvement for golfers. "Golf can be a very challenging game and can cause very high levels of frustration", said Geoff Greig creator of the Sweet Spot Shots Golf Video Instruction Series. "My goal is to help golfers simplify what to change and clarify exactly how to change. Clearly understanding the what and the how has consistently proven to maximize the potential for success and minimize frustration."
The "Sweet Spot Shots" Golf Video Lessons are specifically targeted to help golfers clearly understand the 3 Club Face Impact movements that directly influence sweet spot contact and ball flight (the what). Once the correct Impact movements are understood… the "Sweet Spot Shots" Videos clearly define 3 simple Learning Progressions (the how). The Learning Progressions are easy to follow practice guidelines golfers of any skill level can use… to successfully train the three impact keys and play better golf.
Sweet Spot Shots Explanation Video
About Geoff Greig:
As a former golf playing professional, former professional soccer player, former collegiate ski racer, inductee in the University of Vermont Athletic Hall of Fame and Award Winning PGA Teaching Professional, Greig has an impressive resume of performance and teaching skills. The Sweet Spot Shots Video Lessons are a comprehensive golf improvement program utilizing all Greig's performance experience and teaching success… in the form of essential swing keys, mental game training and on-course performance tips.
About EvoSwingGolf:
Geoff Greig founded EvoSwingGolf in 2009 to bring about an evolution in how the game of golf is taught and help as many golfers as possible play better golf. Greig has defined the EvoSwing brand with a unique blend of simple swing concepts and proven learning progressions which are the cornerstones of the Amazon Best Selling Books and "Sweet Spot Shots" Golf Instruction Videos.
Sweet Spot Shots Sample Lesson Video
Release ID: 148710