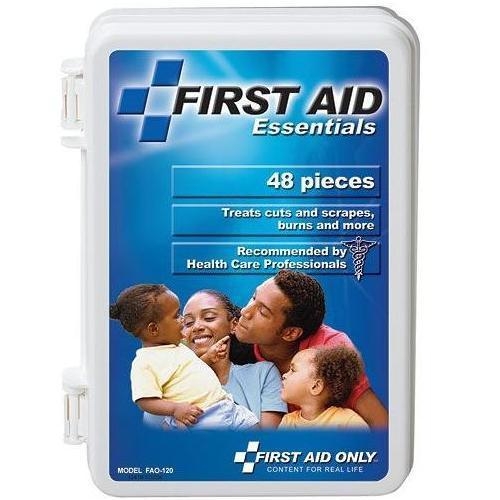 - June 30, 2015 /PressCable/ —
People and families who are looking for the latest first aid supplies can soon purchase a first aid kit being sold to the public by GoldenEye Supply, a new company that started up earlier this year.
Made by the "First Aid Only" company and sold by GoldenEye Supply, this small, compact first aid kit is specifically designed to appeal to people and families with active lifestyles that need quick and effective emergency solutions for treating those every day, minor injuries that pop up when they are least expected.
This kit and its contents include:
48 basic and essential first aid emergency components for basic medical safety – Treats minor cuts, scrapes and burns and prepares the first responder to successfully handle any unexpected, minor emergencies.
A first aid guide and accident report form – Helps in clearly thinking and acting when nerves are being frayed from treating the injury of a loved one, relative or stranger
Lightweight, convenient, small, hard plastic case — This first aid kit is made in the U.S.A. and is designed for easy storage and accessibility and is recommended by health care professionals
Steve Davis, the owner of GoldenEye Supply, when asked about this first aid kit, replied:
"For people and families with an active lifestyle, this kit is the perfect choice. It meets the requirements of anyone with limited storage space, and gives quick access to the supplies needed to be fully prepared for the next injury."
Those who may be interested in learning more about the company can do so on the company website at http://www.goldeneyesupply.com
Those who may be interested in purchasing this first aid kit can go directly to the product listing on Amazon.com at http://www.amazon.com/First-Aid-Office-GoldenEye-Supply/dp/B00545OXC2/ref=sr_1_52?ie=UTF8&qid=1435557113&sr=8-52&keywords=first+aid+kit+auto
About GoldenEye Supply
Founded in early 2015 and located in Santa Rosa, CA, GoldenEye Supply is adding value to the safety and well-being of families all across North America by providing quality first aid kits to the general public.
First aid supplies are something that people hope to never use, but are extremely important to have at hand when they are needed to treat injuries for children and loved ones.
GoldenEye Supply has started out by offering a small, American made first aid kit , but as time passes, will expand into various other first aid supplies and will make them reasonably priced with quick shipping and a 90 Day, Money Back Warranty.
Release ID: 85662