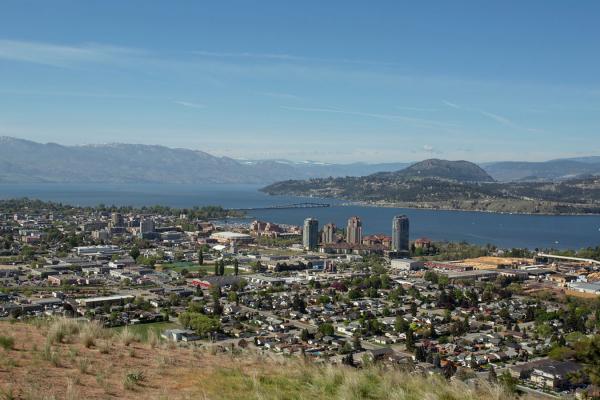 - December 16, 2020 /PressCable/ —
Kelowna BC: Glenmore is one of the more diverse neighborhoods' in Kelowna with real estate prices all over the map. From the more affordably priced homes in the high $400s and low $500s to over 20 homes selling above $1 million. Glenmore's attractiveness has improved greatly since the opening of the Okanagan Rail Trail (ORT) a few years ago and now it's a popular recreational corridor as well as an important commuting route.
New Swimming Pool in Glenmore
The city of Kelowna recently announced plans to upgrade Parkinson Recreation Centre which is about 45 years old. It will be replaced with a brand new recreation centre featuring three gymnasiums, a 25 meter competition swimming pool and various outdoor training facilities. No word on when this is to begin but the cost will be in the $100 million dollar range.
Currently, there are only 25 residential homes for sale in Glenmore. As is the case with most Kelowna neighbourhoods, Glenmore is in need of homes for sale and the level of inventory is low. This always changes after the winter months and this is likely to be the case this year.
Prices for condominium apartments are in the $200,000 to $450,000 range. A modest two bedroom, two bathroom apartment in Meadowbrook Estates on Enterprise will set you back about $350,000.
The main advantage to living in Glenmore is access to good schools. There are three elementary schools, a middle school and easy access to UBCO with the opening of John Hindle Drive makes living in this community attractive.
In the city of Kelowna there are only 705 homes for sale right now including 325 of them priced over $1 million. There are less than 100 (96) homes for sale priced in the popular $400,000-$600,000 price range. In other words, there isn't a lot of inventory out there right now and this will have ramifications if it continues much longer. The listings can be viewed here https://www.okanaganbc.com/
The city of Kelowna has been averaging 360 residential sales per month over the past six months which means they have less than two months of inventory available. The landscape is even more stark when you look at the market priced under $1,000,000. In this wide range they have averaged 282 sales per month and only have 370 homes for sale. With an increased demand and reduced supply, prices a) rise or b) drop. Interest rates might go up or the pandemic laws might make movement more restrictive but prices won't be coming down with numbers like these.
Questioned about the Kelowna December market Andrew Smith Royal Lepage Kelowna said "Not withstanding everything that's going on around us, Christmas is still around the corner and things usually slow down because no one really having their home for sale over the holiday, there isn't as much sunlight and out of town buyers are hesitant to drive over the mountains. There's an opportunity though for those out there who are thinking of selling next spring. Historically there is a surge in new listings beginning in March so smart sellers know that their odds of selling for a higher price increase with fewer competitors".
For further information on the Kelowna real estate market contact Andrew Smith at
Andrew Smith Royal LePage Kelowna 1-1890 Cooper Rd, Kelowna BC V1Y 8B7 250-979-8066
Release ID: 88990034