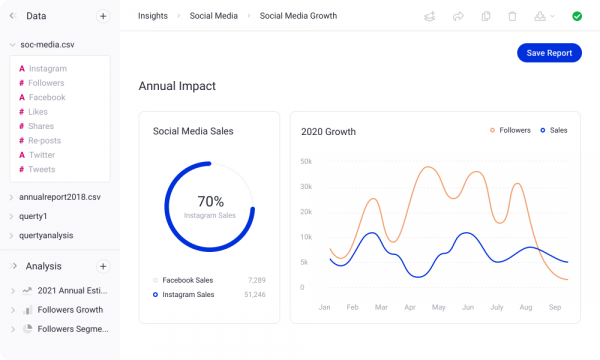 - July 29, 2021 /PressCable/ —
Gyana recently published an article covering the complete ins and outs of getting started with a cloud analytics platform. Within the article, they emphasise how the world of business software is changing at a rapid pace and cloud-based intelligence solutions are no exception to this fact.
In the guide they published, they talk about what businesses and individuals need to know when it comes to beginning with a cloud analytics platform. They purport that any business, whether it be at the data processing stage or optimising existing setups can benefit from this article.
Cloud solutions enable businesses to customise user-interfaces among varying other features such as prototyping tools and business intelligence with ease and effectiveness that traditional systems simply cannot accomplish.
With companies of all types and sizes facing the difficulty of scalability while also maintaining responsiveness and efficiency, cloud solutions are becoming more and more relevant to the business world.
What cloud analytics platforms allow businesses to do is bridge the gap between old systems abilities and what modern businesses need to grow and compete. They are beginning to rapidly replace on-site reporting systems and it's not hard to understand why.
Cloud analytics techniques are adopted by businesses who have big data sets and are primarily used to discover patterns and predict future outcomes, or simply generate other information that decision-makers within the business can digest easily.
As an example, a business that has been operating for a number of years might have an extensive database of customer data, with information ranging from age and gender, to geo-location and health habits. Cloud analytics platforms can run the data to determine specific outcomes, such as what age group a business should target more and so on.
This kind of process helps a business to make essential, impactful decisions that are far more accurate and will bring a company far more success than just taking a random shot in the dark when it comes to deciding what ventures you're doing next.
To find out more about Gyana's cloud analytics platform, visit their website through the following link: https://gyana.com/
Release ID: 89036111