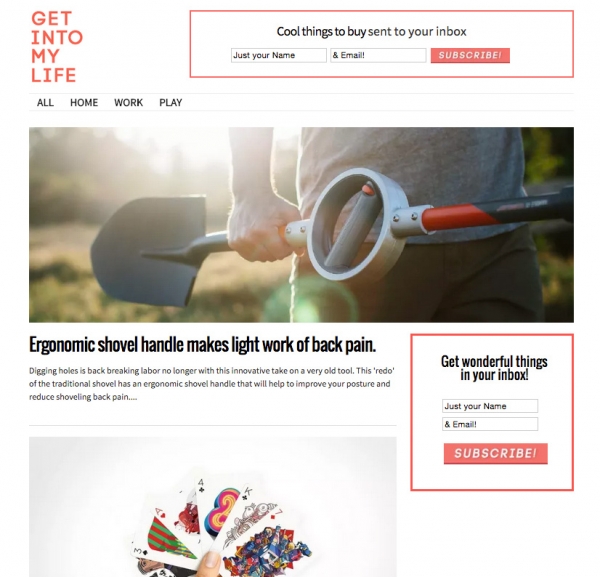 - August 10, 2015 /PressCable/ —
Cool gadgets website Get Into My Life recently launched a new service curating cool things to buy online with a focus on helping design aficionados. The aim of Get Into My Life is to provide the most interesting, well designed products to consumers by publishing interesting, functional products from around the globe.
While it may seem unusual to some, Get Into My Life focuses on helping people who want longevity and design over novelty gags, more specifically, because consumers are over cheap novelty items that can be bought for under $10, used once and then end up relegated to the back of a closet to gather dust..
Up against the likes of "This is why I'm Broke' and 'Shut up and take my money' most cool product review sites simply list the latest trending items. Get Into My Life takes time in finding and curating products from designers around the globe that bridge the gap between design, aesthetics and function, which is great because while it's fun to buy a floating remote control shark to fly around the office, the novelty factor wears off quick, likely drawing the ire of colleagues….
Some sites may go so far as to curate product selections, however often niching the market down too far. ie tools for indoor gardeners. Catering it's product selection only so far as to meet a design and function mix criteria, Posts ranging from ergonomic shovels designed for outdoor enthusiasts, to an artist's pencil milled from a single block of aeronautics grade aluminium. This deconstruction of a niche based marketing, pushes Get Into My Life's content into a more overarching theme of 'functional design'
… Get Into My Life endeavours to go one step further in its mission to provide more value to people who want function, design and aesthetics over one trick gags. An excerpt from their 'about us' declaring the publisher's egress from novelty is found below.
"There are many sites out there that showcase cool things to buy. However unless you are a college grad looking to purchase a hilarious unicorn mask or glow in the dark toilet paper, finding awesome stuff that you actually want to buy can leave you scrolling the internet for hours. Get Into My Life looks to put novelty aside and tries to serve up the coolest things to buy that we think a (fairly normal) human being would actually want to spend cash on. We get that we can't cater to everyone's individual tastes, so somethings make better gifts for your friends."
Get Into My Life got its start in May 2015, founded by Joseph Newton. The idea for the site came about when the founder worked in advertising as an art director and found himself in a position when researching for campaign material where he would stumble across incredible items from around the globe. Joseph started sending an E.O.D email to the office and friends with the days finds, until the companies mail server refused to send his emails out to his list of just under 500 people. This provided the motivation to start the site Get Into My Life and provide access to a larger audience seeking the same..
Ever since, Get Into My Life has made a point to provide some of the coolest products created from talented product designers to people looking for function, design and aesthetics over cheap novelty gags. Serving to point out the gap in the market, on the back of the launch the site has garnered a social following of over 4500 people, and increased the companies mailing list by 700% with just over 60 items posted.
Get Into My Life's collection of cool things to buy online can be found at http://getintomylife.com
Release ID: 88336