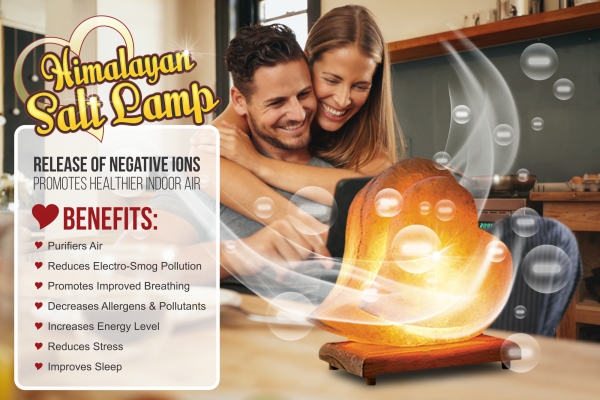 - September 14, 2017 /PressCable/ —
Now available on Amazon.com at https://www.amazon.com/Himalayan-Romantic-Natural-Crystal-Friendly/dp/B017QPJQ4W is a heart shaped Himalayan rock salt lamp capable of supplying improved air quality, attractive ambiance to living spaces, and a unique, interesting, and romantic gift for the holiday season, birthdays, or any other occasion.
Useful Innovation's heart shaped salt lamp comes with a six-foot UL approved cord and dimmer switch, an attractive Neem wood base, a six-pound salt crystal, and a 10-watt bulb. No part except the bulb wears out. As opposed to an expensive bouquet of flowers, the recipient will be reminded of your generosity for years. More information available at http://www.usefulinnovation.com/product/heart-shaped-himalayan-salt-lamp/
Salt lamps have become increasingly popular in recent years due to their interesting shapes, unique colors, and their ability to generate negatively charged ions into the air. Electronic devices in the home have been shown by researchers to increase the proportion on positively charged particles in the air which decrease people's general feeling of wellbeing, and allow dust, pollen, and pollutants to remain in the air in larger quantities. Although much weaker than electronic devises generating negatively charged ions, they do not radically cause dirt in the air to stick to furniture, walls, and ceiling in the area near the generator. The also do not release harmful ozone into the air like some types of electronic air purifiers.
Salt lamps come in a variety of shapes and sizes, but are all basically a form carved out of Himalayan rock salt with a cavity drilled into it to accept a light bulb and fixture which illuminates and warms the salt. Some are crude and rough looking, and some are smooth with a refined shape like the model offered by Useful Innovation LLC. The hydroscopic nature (water attracting) of the salt gathers water vapor from the air which is quickly evaporated from the surface of the salt by high temperatures. This causes the release of negatively charged ions and light. They come in a variety of colors and sedimentation patterns (some patterns look like fine cracks) depending on the types of minerals included in the salt and how fast it formed. Every piece of salt and every salt lamp is unique. Available on Amazon at https://www.amazon.com/Himalayan-Romantic-Natural-Crystal-Friendly/dp/B017QPJQ4W
Release ID: 237251