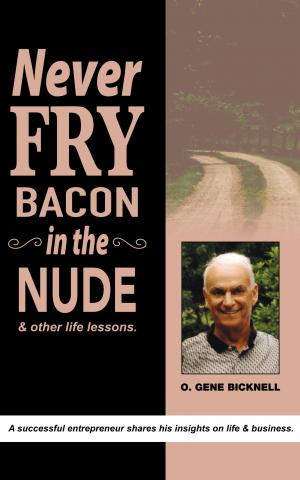 - April 27, 2020 /NewsNetwork/ —
(Franklin, TN, April 27, 2020) The wisest men before us have uncovered the secret to success long before the best-selling self-help books filled the bookstore shelves. Aristotle said, "We are what we repeatedly do. Excellence, then, is not an act, but a habit."
One of the timeless habits Bicknell sticks to is starting the day early while everybody's still asleep. This gives him his own space and time to clear his mind before he tackles the biggest task for the day, the one or two that will move a goal forward. In his book, Never Fry Bacon in the Nude, he shares how he also sets an example of practicing good habits for his subordinates to follow, so he can help them in their journey to success.
To grab a copy, please go to http://genebicknell.com.
From humble beginnings in Baxter Springs, Kansas, Gene served in the army in the early 1950s. In 1955, he went to work for the Goodyear Tire Company in Topeka, and later on, left Goodyear and started selling insurance for New York Life. In 1962, he bought his first Pizza Hut franchise in Pittsburg and added another store in Joplin, Missouri. As the years went on, this Pittsburg State graduate became the world's largest Pizza Hut franchisee.
Bicknell also held stakes in numerous other restaurants and business ventures over his business career. Not content with simply being a successful businessman, Gene became mayor of Pittsburg, KS. Along the way, he has raised significant funds for hospitals, universities, and dozens of charitable causes.
Gene has received numerous awards for entrepreneurship and philanthropy. He received both the Regional and National Entrepreneur award and the National Award for Philanthropy.
A caring individual not spoiled by his success, he believes in people and inspires everyone he meets. His life experiences range from being a cattle rancher, veteran, professor, entrepreneur, actor, pilot, politician, sports enthusiast, collector, philanthropist, husband, father, grandfather, and friend. These experiences have given him insight that has impacted many over the years. His good humor and life stories appeal to everyone and he has much to tell.
Release ID: 88954826