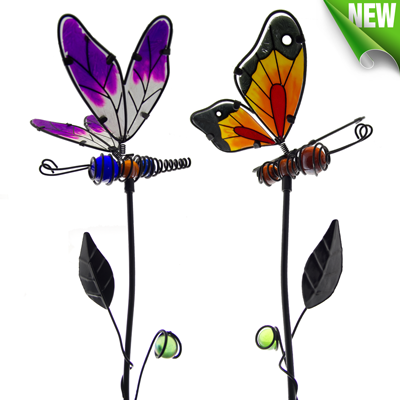 - September 13, 2016 /PressCable/ —
Consumers with a green thumb whom are looking for an exceptional Garden Decor ideas are now able to purchase garden stakes with a premium stained glass look. Pete Bowes, head of product development at Palmate Gardening has just released more in depth details about why and how he and his team developed these unique items.
The main attraction to these garden stakes, one a butterfly and one a dragonfly, is the craftsmanship. Each wing is elegant handmade stained glass, and Mr. Bowes had this to say about the difficulty of including such fragility and art into the product: "When we set out to design high end, handmade items that include stained glass, we knew it was difficult to pull off, yet was first on our list to try."
These butterfly and dragonfly garden stakes are designed to appeal specifically to gardeners with artistic interests. The stained glass wings were included as part of the product to give it a premium feature, something unique from the rest of the garden decor for sale. Customers who buy these garden stakes will enjoy this particular feature because beautiful in the sunlight, and compliments plants, flowers and other garden decorations.
Palmate Gardening made sure to include a pair in each purchase, one of each insect, as they too compliment one another. Customers will likely appreciate this because and can bookend other features in their backyard or patio. Mr. Bowes adds, "We try to develop items that my wife and I, our family and friends, and what our neighbors would like on their properties."
This is Palmate Gardening's first of many release of a product and Mr. Bowes is particularly excited about this product because they have been received very well. The reviews from verified customers can be read here.
Those interested in learning more about the business can do so on the Palmate website.
Those interested in purchasing can go directly to the product listing, here: https://www.amazon.com/Decorative-Butterfly-Dragon…
Release ID: 131698