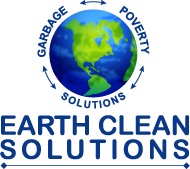 - March 27, 2020 /PressCable/ —
Based in Butte, Montana, Earth Clean Solutions releases a technology with the ability to turn garbage into fuel. Aside from helping take care of the environment, the company also empowers women in need.
Additional details can be found on the company's website at: https://www.earthcleansolutions.com
The newly launched technology employs an innovative approach to garbage treatment. It collects garbage then breaks down its structure by shredding, freezing, and pulverizing it. Processing garbage this way reduces its volume, including plastics by 98%, while it significantly increases the surface area required for chemical reaction.
After pulverizing the garbage, chemicals are added into the mixture to convert the yielded powder into fuel and clean water. The fuel can be used in various applications, including running the ships that are used to collect the garbage.
The company maintains a solid vision for implementing their technology. As 10 rivers of the world account for 80% of garbage that ends up in oceans, Earth Clean Solutions plans to install their technology at the mouth of these rivers. They also plan on having land-based units to deal with garbage directly from the source, as well as ships and barges handling those already in the oceans and beaches.
Earth Clean Solutions is a non-profit organization with a vision to clean up the world's garbage while helping to end poverty among women globally. They are focused on hiring impoverished and oppressed women to collect the garbage and run the business. Offering hope for a better future, the company also provides the workers with everything they need, like micro loans and cell phones, among others.
Earth Clean Solutions has no political, religious or ideological affiliations. The company currently accepts donations to fund their cause of rescuing the planet and assisting women to get out of poverty. Their website listed above contains more information on how to donate.
Release ID: 88951284