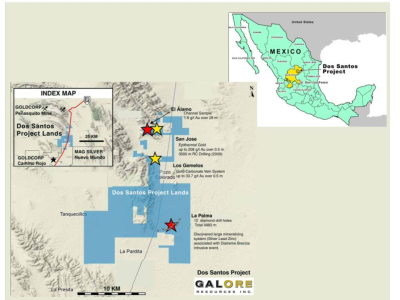 - March 14, 2014 /MarketersMEDIA/ —
Vancouver, B.C., / March 14 2014 / Galore Resources Inc. (TSX-V: GRI) is pleased to announce the completion of a 1,000 line-kilometre (625 line-mile) Helicopter Airborne Gravity Gradiometer and High Sensitivity Magnetic Survey over approximately 10,000 hectares (24,700 acres) of the Dos Santos Property in northern Zacatecas State. The survey is the first phase of a two phase exploration program to cover areas of the property underlain by rocks of the same age as those that host gold-silver-zinc-lead deposits in the district at the Penasquito mine and the Camino Rojo property. Penasquito is Goldcorp's world-class gold-silver producer and Mexico's largest mine. Galore's previous drill program at La Palma intersected encouraging geology in all twelve holes, including mineralization in three holes with metal ratios similar to the Penasquito deposit. Airborne gravity was chosen for its capability of detecting explosive diatreme intrusions like those hosting mineralization at the Penasquito mine.
Processing and interpretation results are expected to take approximately six weeks. The Company also intends to engage an independent geophysicist familiar the geology of the area to provide an independent assessment of survey results. This will assist in planning the second, anomaly follow-up phase for Dos Santos.
Galore also announces a non-brokered private placement of up to 5 Million units at a price of $0.05 per unit. Each unit (a "Unit") will consist of one common share and one share purchase warrant. Each warrant will be exercisable into one additional common share at a price of $0.10 per share for a period of two years from the date of closing of the financing.
The proceeds of the offering will be used to commence the anomaly follow-up phase for Dos Santos and for general working capital.
The private placement shall be subject to acceptance by the TSX Venture Exchange and all securities issued will be subject to a 4 month hold period from the date of issuance.
Galore has received the resignation of Mr. Michael Byrne as Chief Financial Officer and director. Galore wishes to thank Mr. Byrne for all his time, effort and support since inception of the Company and wishes him the best success with future endeavors.
Galore is in a unique position to benefit from holding a very large land position in a very attractive mining camp with the potential to host world class deposits. Less than three per cent of the property has been explored in detail. The first phase airborne gravity and magnetic surveys are intended to assess the potential of all favourable geology on the property. Galore's phase two exploration strategy is to identify and aggressively test the best geophysical targets by drilling.
Galore Resources is a British Columbia-based exploration company with promising exploration properties in Mexico and British Columbia.
Uwe Schmidt, P.Geo. is the Qualified Person as identified by National Instrument 43-101 responsible for information in this release.
Galore Resources Inc.
"Uwe Schmidt"
President and Director
To find out more about Galore Resources (TSX.V:GRI) please contact:
Mike McMillan at (210) 860-9212 (USA),
Uwe Schmidt at (604) 647-2298 (CAN).
Toll Free: 1 (877) 647-2298
OR visit our website at www.galoreresources.com or contact us at uschmidt@galoreresources.com.
Cautionary Note Regarding Forward-Looking Information: The Company expressly warns readers not to rely on the information herein for investment or other related purposes. Accordingly, any use of this information is at your own risk and without liability to the company. The information contained herein is not, and under no circumstances is to be construed as either a public or a private offer or solicitation to purchase securities in the capital stock of Galore Resources Inc. The reader is referred to his/her professional investment advisor regarding investment or related decisions respecting the securities of the company. No securities commission or similar regulatory authority has passed on the merits of or reviewed the information contained herein. Neither the TSX Venture Exchange nor its Regulation Services Provider (as that term is defined in the policies of the TSX Venture Exchange) accepts responsibility for the adequacy or accuracy of this release.

Click Image To View Full Size
Release ID: 36168