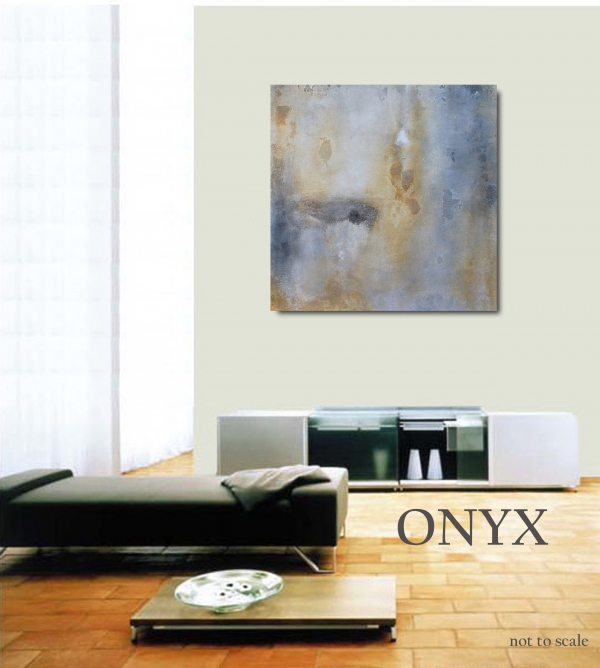 - September 30, 2016 /PressCable/ —
In a unique and appreciative change of pace, Abstract Artist KR Moehr, will be celebrating the launch of her new modern art and hand-built cradled wood panel artworks. Included with every purchase over $200 will be a free original mini painting on paper. The mini will be matted in a black mat, mounted on board and ready for the collector to frame. The event will take place the entire month of October 2016, starting October 1, 2016.
In a space of intense competition, the artist KR Moehr has opted to be a little more unique and appreciative with the new art releases. Two such works include MOMENTS, a modern abstract on cradled, wood-panel. This 24″ x 24″ x 1.5″ original art painting is tones of soft taupe, indigo blue, beige. It is ready to hang.
Another new artwork, ONYX is also on hand-built cradled wood panel in the same size. "It is a more 'industrial' abstract," says Moehr, with tones of deep golden yellow, white, and greys with a textured surface.
A third recent release is DESERT LIGHTS, a large diptych of stretched canvas. This highly textured painting is light and soothing, with warm, desert-inspired tones of golden brown, beige, white and teal. It is 30″ x 48″ x 1.5″ and ready to hang.
A similar artwork, a diptych of 16″ x 40″ is MORNING MIST, a textured painting of whites, beige and soft green. "This is perfect for an office or even a bedroom," says Moehr.
KR Moehr says: "Being an artist, there is deep appreciation for those who support original art. This will show that deep appreciation." This promotion will include all purchases over $200 made at facetimeart.com, as well as http://www.zatista.com/product/details/61258/ONYX, https://www.vangoart.co/krmoehr, https://www.saatchiart.com/facetimeart.
KR Moehr has always thrived on the idea of standing out and doing a little extra like giving away free art postcards and other goodies on her site to subscribers of the ART INSIDERS list. She also offers free downloads of modern prints and posters to valued subscribers.
When asked about the appreciation promotion, KR Moehr said: "We think it's going to be a real hit because everyone likes something free".
The promotion is set to launch October 1, 2016. KR Moehr's art can be found on popular gallery sites like Zatista, Vango and Saatchi. Her work was recently chosen to be included in an upscale Scottsdale, AZ resort as well as the collection of private collectors nationwide. To find out more, visit http://www.facetimeart.com
For further information about KR Moehr, visit any of the listed websites to see available, sold and commissionable artworks.
Release ID: 135011